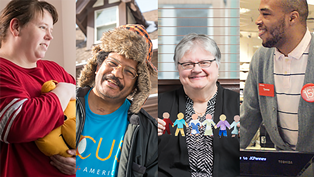 We practice Housing First because we know it works. People do not have to be clean and sober or stable in mental health when they arrive at Cogswell Hall. We know that when people are permanently housed in a quality affordable place they are more likely to be able to address issues of mental and physical health as well as addiction.
Housing First, as defined (http://bit.ly/housingfirstdef) by the U.S. Interagency Council on Homelessness, is a proven approach in which people experiencing homelessness are offered permanent housing with few to no treatment preconditions, behavioral contingencies, or barriers. It is a framework proven to significantly reduce homelessness. That is why housing and human service agencies across the nation are adopting it, including many in your own backyard.
The Housing First approach gained traction due in large part to the success of an initiative here in Greater Cleveland called the HOUSING First Initiative (housingfirstinitiative.org). Pioneered by a small group of local agencies, the HOUSING First Initiative supports the development, management, operations and services of permanent supportive housing. With nine properties throughout Greater Cleveland, the results have been overwhelming. According to HUD's Point in Time Count, there has been a 77% reduction in our region's Chronic Homelessness since the HOUSING First Initiative began its work in 2006.
On average, 20% of Cleveland emergency shelter consumers are long-term homeless and a vast majority of those long-term homeless individuals have behavioral or physical conditions that are severe, chronic and disabling. The Housing First method is "a way of meeting people where they are and then helping them get to where they want to be," according to Emerald Development & Economic Network (more on EDEN here http://bit.ly/EDENHF). Cogswell Hall has 41 places to call home (read about them here http://bit.ly/CogsAffordHousing) for people who need a little help getting where they want to be. We are proud to work in collaboration with a wide variety of agencies as part of the Cuyahoga County Continuum of Care to provide housing and services to those experiencing homelessness.
Continuum of Care? Well, we think that deserves to be a whole other blog post! For our nation's leading documentation of the need for and the effectiveness of permanent supportive housing, check out the National Alliance to End Homelessness (www.NAEH.org) and the Corporation for Supportive Housing (www.CSH.org).