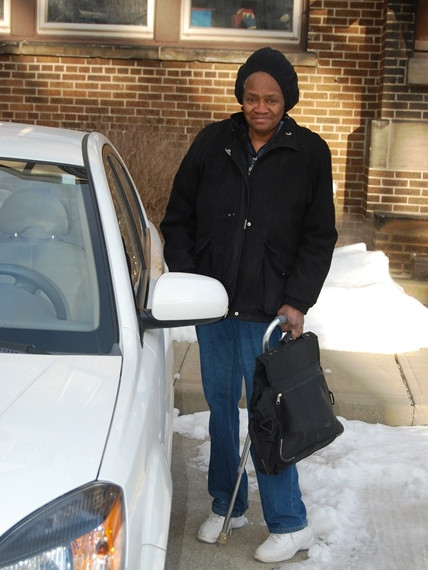 You may know James Brown's 1968 hit, Say It Loud, I'm Black and I'm Proud. Cogswell Hall's Linda Gaffney has her own version of that phrase, delivered with a smile and a shake of her cane: "Say it loud, I'm crazy and proud!" It's a good parallel. Brown was the "hardest working man in show business." Linda's hard-working life, much of it in law enforcement, has left her with plenty of stories to tell.
Born in Cleveland, Linda grew up in Alliance, Ohio. There she played basketball, softball and volleyball, took part in track and field, graduated from high school in 1973 and moved back to Cleveland to attend community college. After clerical positions with an insurance company and the Cleveland Board of Education, she spent over 12 years with the Cleveland Police Department.
The Golden Rule informed her style as a patrol officer, based at the Fifth District's East 105th Street station. "My approach was to treat people as I wanted to be treated, to be polite," Linda says. She was inclined to let first-time traffic violators go with warnings if they were polite and remorseful. Tickets went to repeat speeders and rude first-time offenders. Her more eye-opening stories come from her next stint, as an undercover detective. She took part in more than one drug bust, posing as a buyer. One time is funny to talk about now, but was awkward and a little scary then: The suspect came right out and asked if she was a cop. "Do I look like a police officer?" she answered, throwing open her coat to reveal her street clothes – and, almost, her gun. Fortunately, the weapon was behind her, on the back of her belt. The suspect didn't see it. The bust succeeded.
Things were much quieter when she moved to Alabama to be with family – where her father was from – and worked as an officer in Greenville for two-and-a-half years. For crazy-and-proud Linda, the southern scene was a little too boring. Example: the big action came when an Arby's restaurant used searchlights to draw attention to its grand opening. The police received 30 calls from citizens asking about UFOs.
A niece in Florida suggested applying at Disney World. Linda did, and caught on as a plain-clothes officer again. She recalls: "One thing that surprised me about working there: people come there from all over the world – to steal!" She saw people take decorations, items from gift shops – anything, "just because it's Disney." She was on her feet constantly, often on hot pavement and asphalt.
She made one more professional stop in Florida, with a security-systems company. She monitored video feeds from around the country (one was from Cleveland's own Longwood housing project), from security cameras that were equipped with audio speakers. When she saw suspicious activity, Linda turned on a mic and warned perpetrators they were being watched. It was effective, she says.
Various ailments – including foot numbness and pain – were limiting her ability to work, so Linda moved back to Ohio. She became a regular at Cleveland's Magnolia Clubhouse, which helped place her in a clerical job with the Cuyahoga County ADAMHS Board. Living with her sister was not ideal, so a social worker connected her with Cogswell Hall. She moved in in December 2009.
She says Cogswell Hall has been good for her health. Giving up smoking two or three years ago helped her feet; she still has numbness but much less pain. She also cut back on her former habit of two ginger ales per day – it's now more like two a week – and watches what she eats. In 2016 she was one of three Cogswell Hall residents who successful worked with others on Franklin Boulevard to get Neighborhood Connections funding for a July "Neighbor Night" on the Cogswell lawn.
Occasionally she comes to the aid of other residents by sharing hard-earned street advice. On a recent shopping outing, she warned a friend about a parking-lot con artist posing as a beggar. Linda's years in law enforcement have left her skeptical about people asking for money. "Offer to buy them food," she says, "or support organizations that can help them."
_________________________________________________________________________________________________________________
The 2017 #PovertyTruths series examines various topics related to poverty from a Cogswell Hall perspective. Among them are myths – such as, "Most people living in poverty who get public assistance never worked a day in their lives." Visit our #PovertyTruths page under "News & Media" for more.