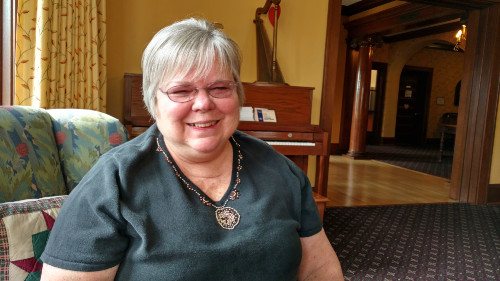 Sitting in Cogswell Hall's "Smokers' Circle" does not earn you CogsMart points, but there is no denying the cultural importance of this space to a small group of residents. Recently, a healthier idea was born in that semi-circle of chairs and benches in the northwest corner of our tiny campus, next to the butterfly bush and memorial garden.
Two early-morning smokers started doing chair exercises.
"Hey, you should offer this for all the residents," Pam said to Mariann during one of their 6:30 a.m. routines. And so began one of the first resident-led physical health activities at Cogswell Hall.
Mariann Rush, a Navy veteran who moved to Cogswell Hall in 2013 due to mental-health issues, approached our Support Services manager with the idea. The staff member enthusiastically pulled out the calendar. The two found a 10:30 a.m. Wednesday slot and arranged for space in the dining room. The staff had offered Chair Exercises in the past, but on weekends. Mariann had a feeling that residents would prefer a weekday.
Drawing from videos online and past physical education classes, Mariann developed a very low-impact series of moves. Since the first session on June 8, chair exercising has drawn a steady crowd of residents, including some who typically shy away from house activities. Two of our newest residents have found the Wednesday group to be a warm welcome to their new home.
"We have formed a community through this class and that's an important part of living here," Mariann says. "I personally feel like I have more friends since starting this group. I've always liked to be kind of a leader and this gives me a sense of accomplishment. It gives us all a sense of accomplishment. " Chair exercise fills the dining room with upbeat music and positive energy. Its impact on the physical and mental health of the residents participating, however, goes beyond the 30-minute session. It's a way for the leader and student to emerge in any resident who may just be waiting for a little encouragement.
To see a few seconds of the chair exercise group in action, click here: http://bit.ly/ChairExercisesGIF. Mariann is also featured in this recent video about Cogswell Hall: http://bit.ly/CogsCompassion.