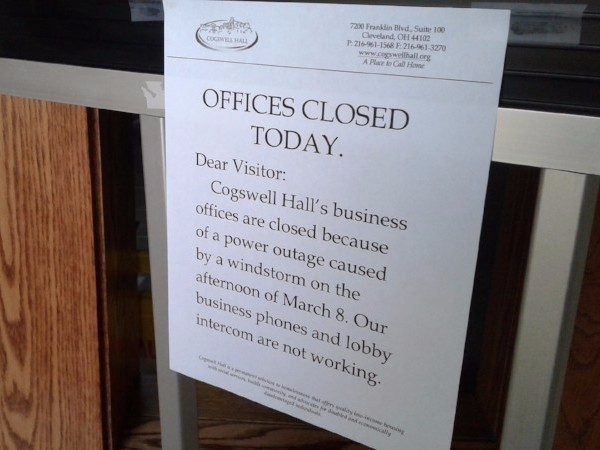 Electricity is back on at Cogswell Hall after a March 8 windstorm that affected more than 60,000 power customers. (Read Cleveland.com's coverage here: http://bit.ly/CleWindStorm.) With computers and phones down, Cogswell's business offices were closed from Wednesday afternoon until the power came back on shortly before noon Thursday, March 9. If you tried to reach someone on the administrative staff, during that period, you're encouraged to try again now. Follow the prompts at 216-961-1568 to leave a voice mail. Or send an email, which can be retrieved by staff members, whether they are working at home or returning to the office today. A directory is here: http://cogswellhall.org/who-we-are/staff.html.
Winds gusted as high as 60 mph Wednesday. Emergency lights came on in Cogswell's corridors when the power went out around 3 p.m. Many residents hauled out flashlights of their own or ones they had been issued during an outage years ago. Kitchen Manager Mike Lewis and his staff brought in pizza for supper, and Program Manager Diane Kragt of the supportive-services staff was on hand into the evening to answer residents' questions and help them adjust. Facility Manager Steve Malue made a run for more flashlights and fresh batteries and handed them out Thursday morning. He also brought a supply of 9-volt batteries in case any smoke detector might start to run down. The detectors run on the building's electrical current and use batteries as backup.
Staff and residents alike were glad to be getting things back to normal on Thursday. Mild, sunny weather was slowly giving way to cold and the possibility of snow overnight, with low temperatures in the teens predicted over the weekend.