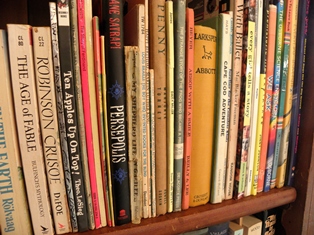 Susan (not her real name) grew up in Lorain, Ohio, one of eight siblings. Her father, a machinist at BF Goodrich, belonged to the American Slovak club, where Susan enjoyed serving the weekly fish fry as a young girl. Her mother was an excellent cook and worked at home taking care of six boys and two girls. After high school, Susan received her associate's degree from Lorain County Community College, where she majored in art and computer-assisted design.
Susan was diagnosed with schizophrenia as a young adult. Short and long hospital stays ensued. "I would just sleep and sleep and sleep," Susan recalled. "I had trouble eating. I wasn't taking care of myself." She tried hard to remain in the work force, but keeping up in the fast-food industry proved too great a struggle — which in turn hurt Susan's confidence. After two data-entry jobs, she developed carpal tunnel. Despite surgery, she was unable to continue data work. Living at home with her mother, Susan lacked her own income. She applied for Social Security benefits.
When her mother died in 2008, the family house had to be sold and Susan became homeless. "I really felt safe in Lorain," Susan said. "It was my home and all I knew for 30 years. I was scared to leave, but I moved to the West Side [of Cleveland] to live with my sister and her husband." What seemed at first like an all-time low turned out to be a new path toward independence.
Susan's sister worked as a teacher in the library of a local elementary school and arranged for Susan to volunteer full-time as her assistant. This finally seemed like a good fit, enabling Susan to work at her own pace and creatively lead lessons with students. The two worked together for several years, until Susan's sister accepted a teaching position out of state. Before leaving, she helped Susan apply for housing at nearby Cogswell Hall. She moved in in 2010. Here Social Security is enough. She lives independently in her own apartment, with access to support from the staff and a community of residents. And she still volunteers in the school library, where her daily work has a positive impact in students' lives.
This is the true story of a real resident. See more at the #PovertyTruths page at CogswellHall.org.