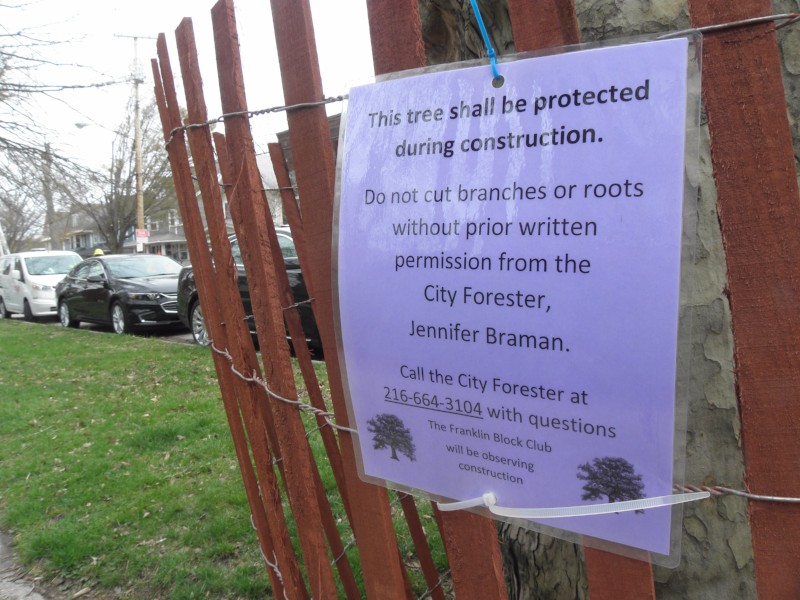 Thanks to signs hung by vigilant neighbors, Cogswell Hall's big sycamore trees should be extra-safe in the coming weeks.
Dominion, the energy company, is about to lay gas lines along Franklin Boulevard between West 65th and West 74th streets. Workers will dig up or bore under sidewalks, and, in some cases, cut down trees. In consultation with city officials, Dominion clearly intends to minimize damage to the street's tree-lined beauty. It has placed fences around the trunks of trees to be preserved: 27 of them on the north side of Franklin (including two in front of Cogswell Hall) and seven on the south side. Unfenced trees will go. Contractors cut down four of them on Thursday, April 13.
But folks who work in the world of social services know not to assume anything about how projects will go. As it happens, the Franklin Block Club is filled with them. Its leaders include residents like Diana Cyganovich, executive director of Cogswell Hall; Bobbi Reichtell, executive director of Campus District Inc., a community development organization; and Lilah Zautner from the staff of the Cuyahoga County Land Bank. And the neighborhood's outdoor spaces are dear to the club. Just last August, after years of work, they dedicated a public reading garden at West 65th and Franklin.
So when members of the Reading Garden Subcommittee got word of Dominion's coming work – long before the fences went up – they got busy. They wanted to head off any tree mistakes that might arise from confusion among the assortment of utility workers, city employees and contractors assigned to the project. Lilah phoned up the city's Urban Forestry office. The result is the warning sign shown here, printed, laminated and posted on every tree-trunk fence by Diana and Bobbi -- and bearing the phone number of City Forester Jennifer Braman.
When the project is done, then, the neighborhood should have both things: new natural gas lines as well as its longtime natural beauty. Knock on wood.
See more pictures of the protected trees here: http://cogswellhall.org/news-media/photo-gallery/tree.html. Curious about block clubs? Read more here: http://www.dscdo.org/join_a_block_club.aspx. Interested in the reading garden? Here's an article from The Plain Press: http://bit.ly/ReadingGardenPlainP