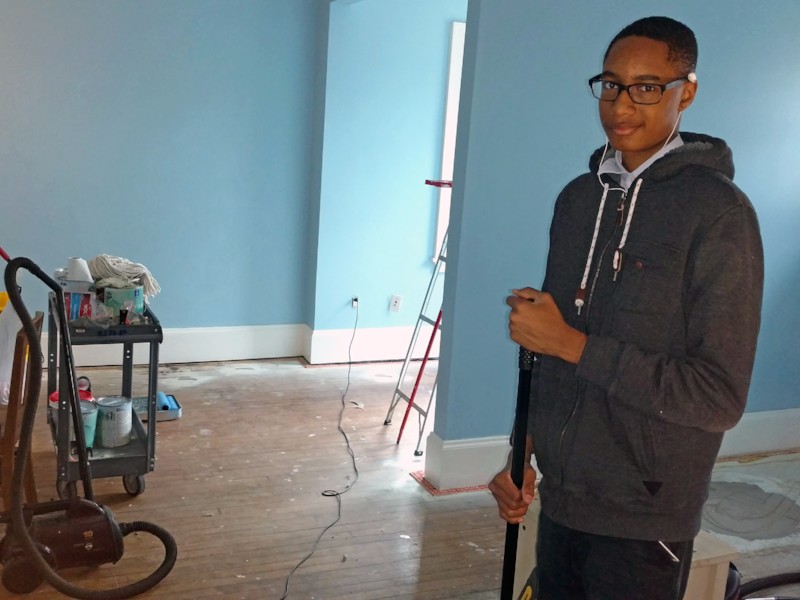 Our Volunteer Spotlight interviews are a great way to introduce you to and show appreciation for the many individuals who give of their time and energy to our organization. One special volunteer, however, has done a lot of growing since he started his work study with us in the fall of 2014. In fact, we'd venture to say Stephen has grown approximately two feet since we met him his freshmen year. We sat down with him to get the full scoop on his experience at Cogswell Hall.
St. Martin de Porres High School, near St. Clair and E. 61st St., requires all students to participate in a full day of work each week at a Cleveland business to build life skills, foster professional relationships, and expose students to a variety of industries and career paths. Stephen, shown above preparing a vacant room for a new Cogswell Hall resident, works in our facilities management department under the supervision of manager Steve Malue. To avoid first name confusion, Stephen is affectionately referred to around the Hall (and onward in this piece) as Junior.
Junior is a most thoughtful 17-year-old who comes to work with a quiet disposition and eagerness to complete his tasks in an efficient manner. Junior recalled his early struggles to understand the task at hand. He made mistakes and had to re-do work. "One of the most valuable things I have developed in my time at Cogswell Hall is patience," Junior said. That patience comes in handy at school just the accountability he has learned in the classroom has served him well in the workplace.
Reflecting on meaningful experiences at Cogswell Hall, Junior spoke about the times he was paired up with Barry, a resident who has low motor skills and short-term memory loss from a traumatic brain injury. "I've definitely developed more communication skills with people who don't have the same thinking process as me." He credits his supervisor and mentor, Steve, for also teaching him to treat others as he'd like to be treated. In return, Junior teaches Steve to be more open minded about current fashion trends.
Junior's rigorous academic workload keeps him occupied. One group research project on Post Traumatic Stress Disorder was particularly enlightening. A better understanding of the causes of PTSD such as sexual assault, military action, witnessing or being a victim of violence, struck a chord with Junior. PTSD is common among the population we serve at Cogswell Hall. It's this kind of experience that St. Martin de Porres finds is making a huge impact on its students.
Approaching his senior year, the pressure is on for Junior to make good grades and think about his future. Music keeps him focused and inspired. The words of hip-hop artists such as J. Cole and Kendrick Lamar speak to him with immense significance. We listened to a song and he expressed his emotions, frustrations and philosophies on acceptance and unity. Stephen's increased maturity over these three years has been staggering. Whatever the future holds for this wise young man, we predict will be proud to say he was once a member of our Cogswell Hall family.