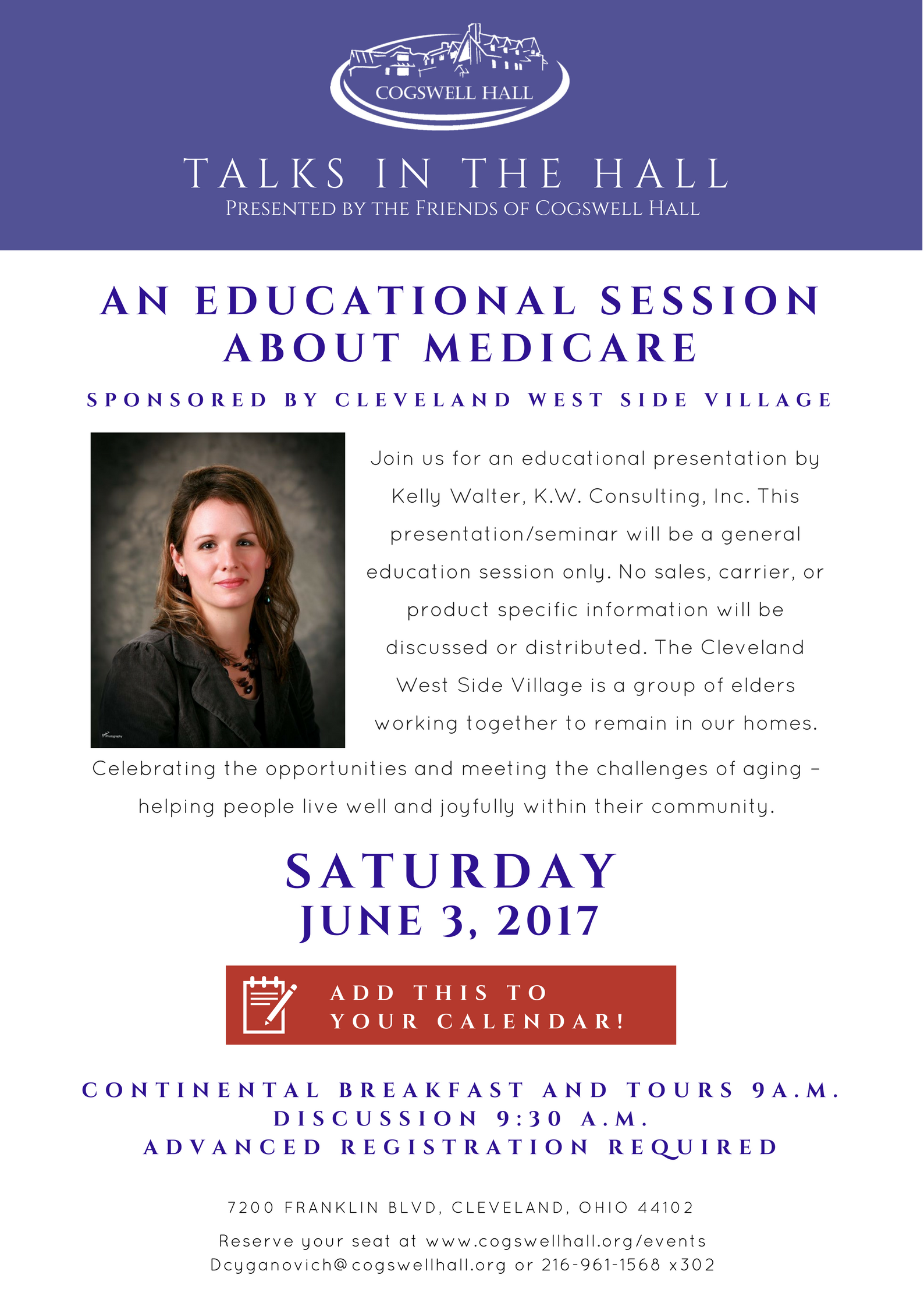 When you first look at it, Medicare -- with its many "parts," plans and acronyms -- can appear a bit foggy. This is true for people nearing retirement and even for retirees who may or may not yet be enrolled. Insurance consultant Kelly Walter of Burton, Ohio, helped lift the fog in an informational talk at Cleveland's Cogswell Hall on Saturday, June 3. Her tips ranged from not falling in love with a single drug store to carefully weighing the Medicare costs of retiring early.
Part of Cogswell's free series of occasional "Talks in the Hall," the presentation was co-sponsored by the Cleveland West Side Village, a neighborhood mutual-support group for elders. Find out more about Kelly at her company's website, http://kwalterconsulting.com/default.aspx. You can find a lot at the official U.S. government website, too: https://www.medicare.gov/.
Here, from a morning packed with much more detail, are 10 Medicare facts and tips -- some basic, some you might not have thought of:
1. Medicare (insurance) and Social Security (monetary benefits) are separate. You can activate Social Security at various ages. Medicare starts in the month you turn 65, with a few exceptions (see, for instance, Item 3 below).
2. If your birthday is on the first day of the month, Medicare starts a month before you turn 65.
3. Thinking about retiring early? Think hard. Look carefully at what private health insurance will cost, compared to what your employer provides. That alone is enough to make some people wait until 65.
4. You can postpone Medicare past age 65 if you're still working and want to stay on your employer's health plan -- but only if your company has 20 or more employees. If it's smaller, you must start Medicare at 65.
5. If you're a public employee -- a school teacher or state or federal worker, for example -- look into the specific Medicare options available to you.
6. Parts A (hospital) and B (medical costs) cover 80 percent of your bills. You can cover the rest by buying a supplementary plan (a.k.a. "Medigap") plus a "Part D" plan for drugs. Or you can package it all in a "Part C" plan.
7. If you want drug insurance ("Part D"), you get it from a private company. In Ohio, about 30 different "Part D" plans are available. Premiums vary in cost from $15 to $150 a month, depending on factors such as the drugs you need to have covered -- how many and what kind. When considering a plan, look at that list, called a "formulary."
8. A piece of mail you should always open as a retiree is the "Annual Notice of Change" from your Medicare provider. Arriving in September or October, this notice lists changes in premiums, covered drugs, etc. At least read the overview sheet.
9. Don't miss deadlines! There are several kinds. Example: Once you're on Part D, you can only change it between Oct. 15 and Dec. 7 -- the yearly "open enrollment" period. Example: If you've delayed beyond age 65, you'll have a 60-day period when leaving your employer's plan to get on Medicare without answering health questions. Find open-enrollment info here: http://bit.ly/2qLEXn3.
10. Try not to fall in love with a single drug store. Comparison shopping can help keep your costs down as insurance companies move pharmacies in and out of their "preferred" networks. Use cost-comparison websites, too.