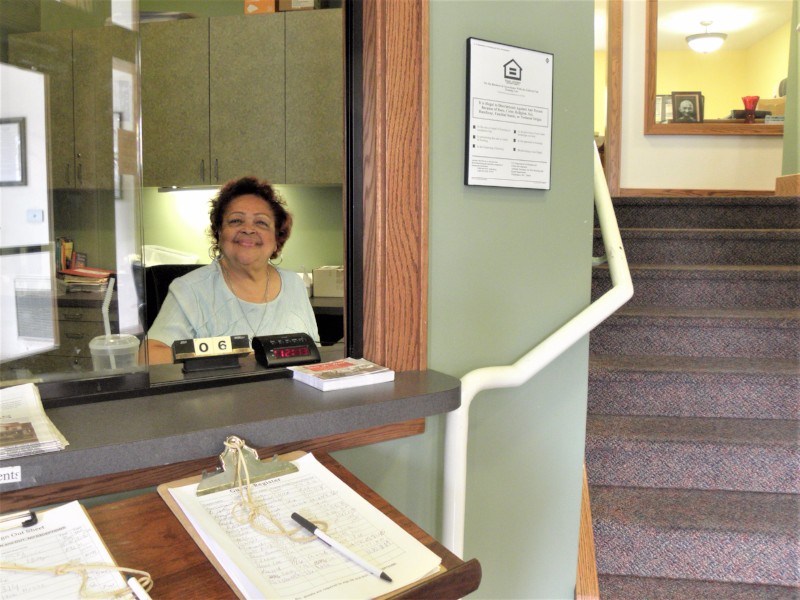 We said goodbye today to Phoebe McIntosh, the face and voice of Cogswell Hall to many visitors and phone callers for the past year. Thanks to a placement by the AARP Foundation's Senior Community Service Employment Program, Phoebe has been our receptionist three days a week since last summer. Volunteers with that program can stay no longer than a year in one place, so Phoebe now moves on to a new assignment with the people at the Council of Economic Opportunity in Greater Cleveland. Our loss, their gain!
We have appreciated Phoebe's cheery and energetic way of welcoming our varied guests: visiting nurses, case workers and health assistants, service technicians and vendors, bringers of donated items, Board and committee members, and volunteers, to name a few. And the residents! Phoebe worked hard to put names with faces. "I always said hello to all of them," whatever a resident's mood might be on a given day, she said in a farewell staff meeting today. "I learned their patterns and routines." Perhaps this mattered most to those who tend to steer clear of the numerous but optional opportunities Cogswell Hall offers residents to socialize and do things together.
A testament to this came in a farewell from one somewhat reclusive resident. Unsure she would be able to say goodbye in person, the resident gave a card to a staff member yesterday to give to Phoebe today. In it were kind words about what Phoebe's presence had meant to hear. Another resident, in tears, brought Phoebe a card this afternoon that had circulated throughout the hall and bore signatures and well wishes from many of the people who live here.
Thank you, Phoebe, for helping to make Cogswell Hall a place to call home.