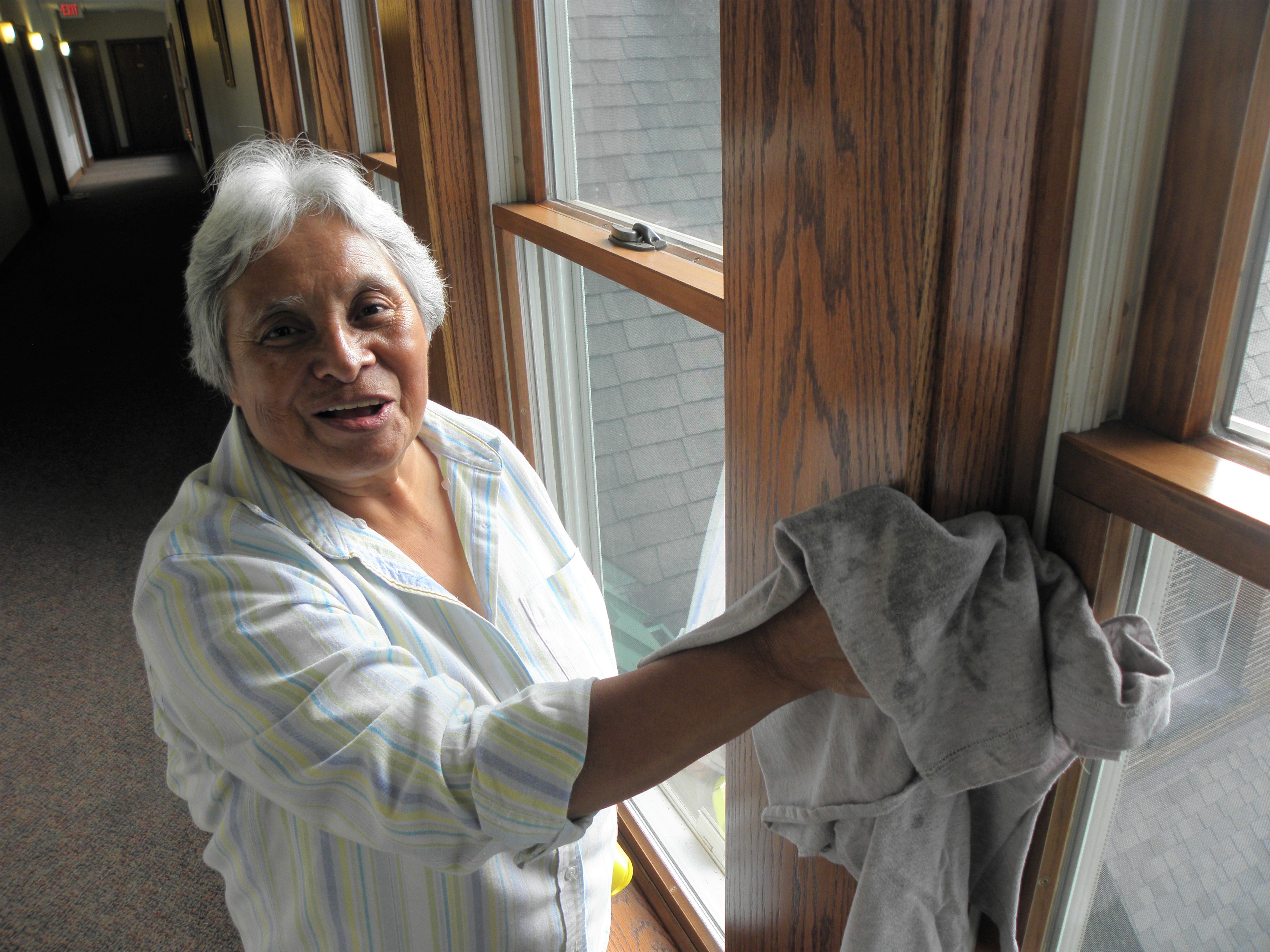 Last Friday, housekeeper Amanda Nieves dusted every surface in each of Cogswell Hall's residential hallways. Amanda's persistent dusting, room cleaning, laundering and ironing are among the reasons why visitors often mention how clean the place is. Now, after 21 years on the job, Amanda will retire on Oct. 19 to spend more time with her family -- and get things done around her own house.
Born in Guatemala, Amanda first came to the United States in 1969 to live with her aunt and uncle, longtime Cleveland residents. After a year and a half, she returned to Guatemala City. She waited for years for immigration paperwork to clear. In 1978 she came back to Cleveland and soon became a U.S. citizen. She married here, started a family and started work. Her first part-time housekeeping job was at the BP Building (today's Huntington Building) on Public Square. She also served as a domestic housekeeper in the well-to-do Edgewater neighborhood.
In 1996, Amanda's aunt, Julia Chavez, herself a Cogswell Hall housekeeper for 20 years, decided to retire. At Julia's encouragement, Amanda applied. Another candidate was chosen, then changed her mind. So Mrs. Bonnion Forbes, executive director at the time, hired Amanda. She received training from her Aunt Julia. Amanda has worked the 7 a.m. to 3 p.m. shift ever since. Amanda's real first name is Ester, but when she started work here, Cogswell already had someone with a similar name. To avoid confusion, she chose her middle name and has always been known as Amanda in these halls.
"At that time it was all older people," Amanda says, recalling a time when Cogswell housed elderly women of modest means. That was the last period before an expansion and renovation, completed in 2010. "The rooms were smaller. There was one bathroom on each floor." And the housekeeping department did laundry for every one of the 29 women who lived here. Now there are 41 rooms, each with its own bathroom, but laundry and housekeeping services are optional, for a fee. Some residents do their own, but many choose Amanda's help.
"I like the job," she says. Beyond cleaning, dusting and making beds, she will also "pick stuff up" and help organize rooms for the residents, many of whom face physical, mental or intellectual challenges. "I like to help them." She says she will miss not only the residents, but colleagues such as Carla Johnson and the teamwork they share in the basement laundry room. "I will miss everyone."
One of Amanda's first retirement activities will be a trip to Guatemala City to visit her mother, now 90 years old. She also looks forward to pitching in on child-care with her small granddaughter. And, since the death of Amanda's husband three years ago, there's simply more work to do around her own house. Meantime, the family tradition of keeping Cogswell Hall clean continues. Amanda's brother-in-law, David Umanzor, joined the janitorial staff in 2016.
Thanks, Amanda, for your years of service -- and for making Cogswell Hall gleam with your hard work and joyful smile.