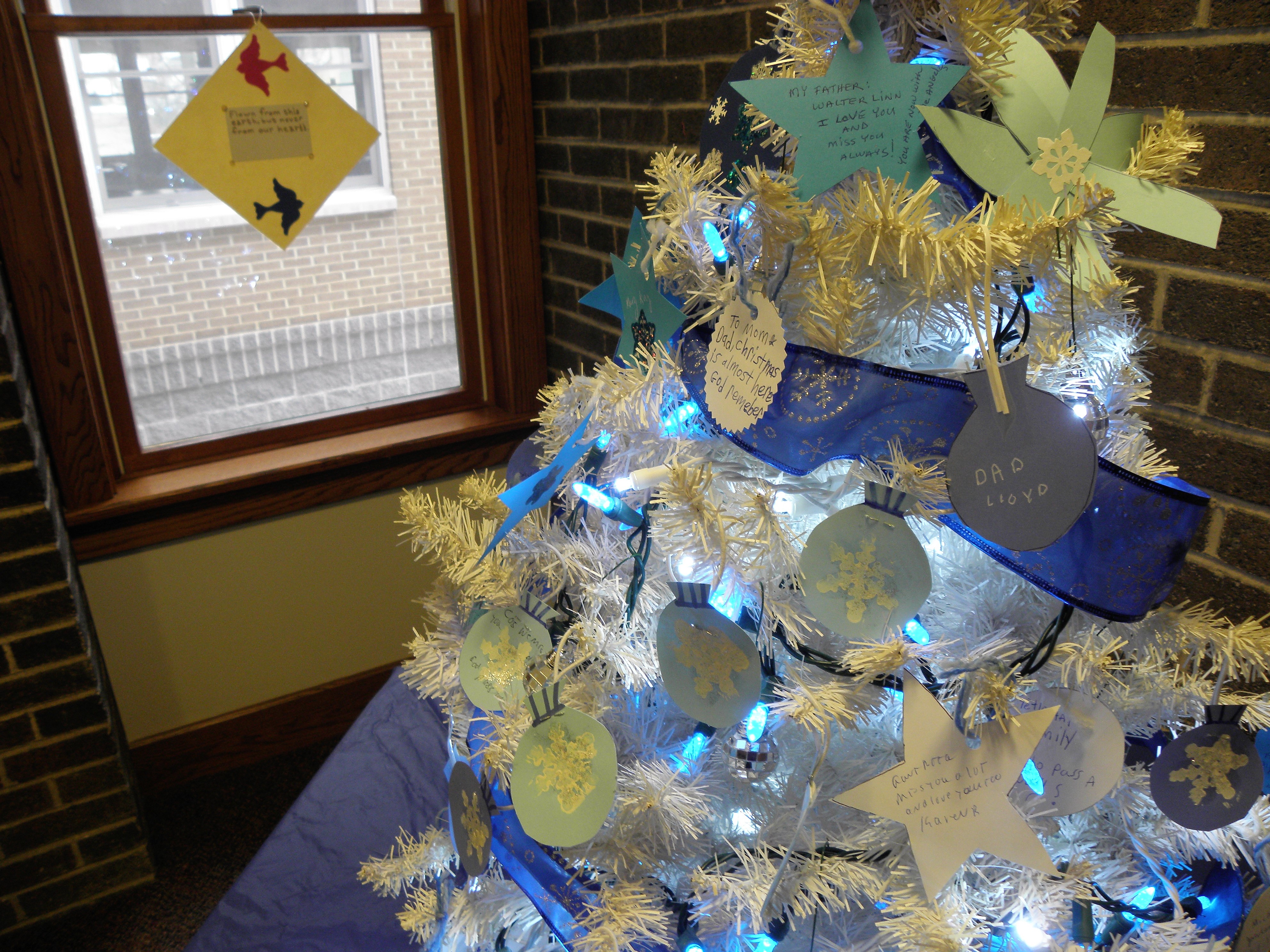 Whether your celebration is Hanukkah, Solstice, Christmas or Kwanzaa, seasonal joy can be mixed with melancholy. It can be even harder if you're far from family, feeling lonely in a crowd, or dealing with a mental condition that is oddly heightened by the holidays and shorter daylight.
At Cogswell Hall, decorating the naming tree is one way for residents to cope.
Among those remembered on this year's tree are "Mom," "Dear old Dad," "My birth father," "My one and only real blood brother," "Cogs the Cat" and "15 horses that lost their lives in that barn fire." Sentiments include "missing you," "I love you and miss you always" and "You'll never know how much you are missed."
"The tradition began in 2008, in memory of a long-time resident who had passed away earlier in the year," says Program Manager Diane Kragt. "I have offered the tree every year since, along with handcrafted paper snowflakes/ornaments, as a way of recognizing and honoring the people, creatures, experiences and things which have touched each of our lives and then flown. After the first of the year, we hold a memorial ceremony, during which music is played, comforting thoughts are offered, and each sentiment is read aloud following by a chime from our piano. Residents have expressed their gratitude for this opportunity to express the emotions of sadness, and even sometimes anger, which are all too real, but do not seem to fit with the hustle and bustle of the holiday season."
Each year, this message invites residents to take part: "This tree is intended to be adorned only with hand-crafted snowflakes which hold special sentiments that you may want to express in memory or recognition of a loss you have experienced. Snowflakes are, in nature, all unique, as are our personal experiences with grief and loss. Snowflakes are temporary, transitional, as are most things in life. However, is there one among us who has not caught a perfect snowflake on a gloved hand or coated arm and observed its beauty before it melted away? So, too, is the way with all that touches and shapes our lives, our selves. We observe, we embrace, and we are enriched. If you feel so moved, you are welcome to stop by and add your snowflake to the Blue Christmas Tree."
Cogswell Hall also tries to keep the season bright with arts and crafts, a gift-wrapping activity, a holiday dinner for Board members and residents with singing and gifts, visits from community carolers, and several classic holiday trees and decorations throughout the building. But the blue tree, small and bright, nestled on a table in a nook near the dining room, always bears some of the most heartfelt expressions of the season.