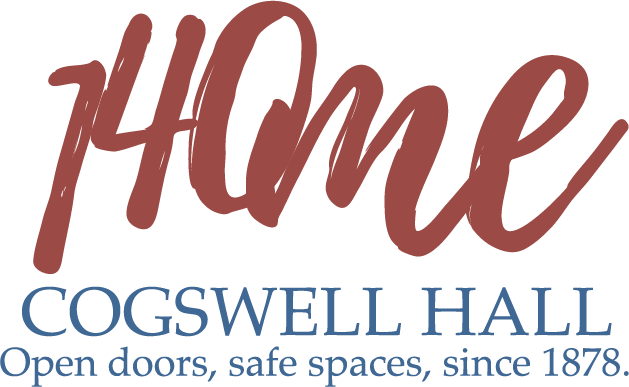 For Cogswell Hall on Cleveland's West Side, 2018 marks 14 decades of serving people in need. A special logo, launched New Year's Day, will help carry a key message throughout the anniversary year: low-income people need housing and support just as urgently now as they did 140 years ago.
Underlined by the words "Open doors, safe spaces, since 1878," the logo's festive script design blends the number "140" with the word "home." It emerged from a November brainstorming by Cogswell's Development and Marketing Committee, composed of Board and staff members and friends from the community. Development and Marketing Assistant Sakina Kapasi, who helps staff the committee, suggested the "140" and "home" idea. Cleveland-area graphic designer Rachel Clingman created the final image. It will appear on printed materials and digital platforms throughout the year, alongside the agency's main oval "building" logo.
Cogswell Hall's long historic roots reach back to work begun in 1878 in downtown Cleveland by Mrs. Helen Cogswell and members of the Woman's Christian Temperance Union. They founded the Open Door, a drop-in center for women living on the street. Guests received food, clothing, spiritual guidance and other support. By 1892, it had become a Home for Friendless Girls, serving women released from the Cleveland Workhouse, a correctional institution. Over the decades, it has modified its mission to meet changing needs and populations.
At its current Franklin Boulevard location since 1914, Cogswell Hall is now home to 41 low-income men and women who otherwise would be homeless or ill-housed. Each resident receives a private, permanent room and access to case management, crisis intervention, community-building activities, meals, and help achieving personal goals. Read more about Cogswell Hall's mission here: http://bit.ly/CogsMission, and its history here: http://bit.ly/CogsHistory.