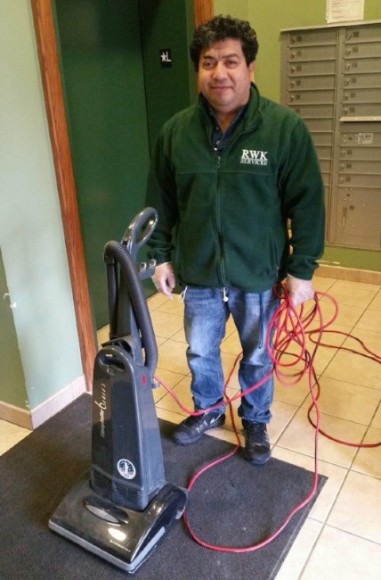 Cogswell Hall bid farewell this week to janitor David Umanzor. David joined the janitorial and housekeeping staff at Cogswell Hall in 2016 after hearing about the open position from his sister-in-law, Amanda Nieves. You may remember Amanda from a recent edition of the Chronicle. A long-time member of the Cogswell Hall family, Amanda retired this October after 21 years. One of David's fondest memories at Cogswell Hall is of the party celebrating Amanda's retirement. "She worked so hard for many years. I am happy she can finally relax."
David spent many mornings keeping the front lobby clean and ensuring that the area is dry so that our residents and visitors would not slip. Some of his other responsibilities included mopping and sweeping the basement, keeping CogsMart tidy, wiping down light fixtures and cleaning windows in the summer. Beyond his regular cleaning duties, David was always willing to listen and be a friend to residents and staff. "I like my job. In my other jobs I am on my own a lot, but here there is always someone to talk to." David enjoyed hearing the variety of perspectives he could find here at Cogswell Hall. "Everyone has their own opinions and problems and appreciates having someone listen to them." He says he will miss the relationships he has formed here most of all.
David, originally from Honduras, moved to Houston when he was 18 years old. After hearing from a friend about Cleveland and the opportunities available here, David packed his bags and made the move north. David's favorite place in Cleveland is Voinovich Bicentennial Park and the East 9th Street Pier. He loves the bustle of people from nearby First Energy Stadium and the museums alongside the calmness of Lake Erie.
David met his wife, Verena, shortly after arriving in Cleveland. The two met in an ESL class offered at the old Max Hayes vocational high school. David and Verena have three children – two daughters in college and one son in high school. In his free time, he enjoys spending time with his family and watching horror movies. "Many people don't like them, but I enjoy the thrill." He is also a fan of soccer and basketball (Go Cavs!) and loves watching his son's varsity high school team play in Parma. This past November, David and his family traveled to Spain to visit his daughter who was living there on a study abroad program. "The flight was long but it was worth it," he remembers fondly as he describes his travels through Madrid, Alcalá, Granada and other Spanish cities. He loved the relaxed lifestyle there and hopes to travel to Europe again soon.
David begins a new position in a downtown office building next week. We wish him the best. Thanks, David, for your hard work and friendship!