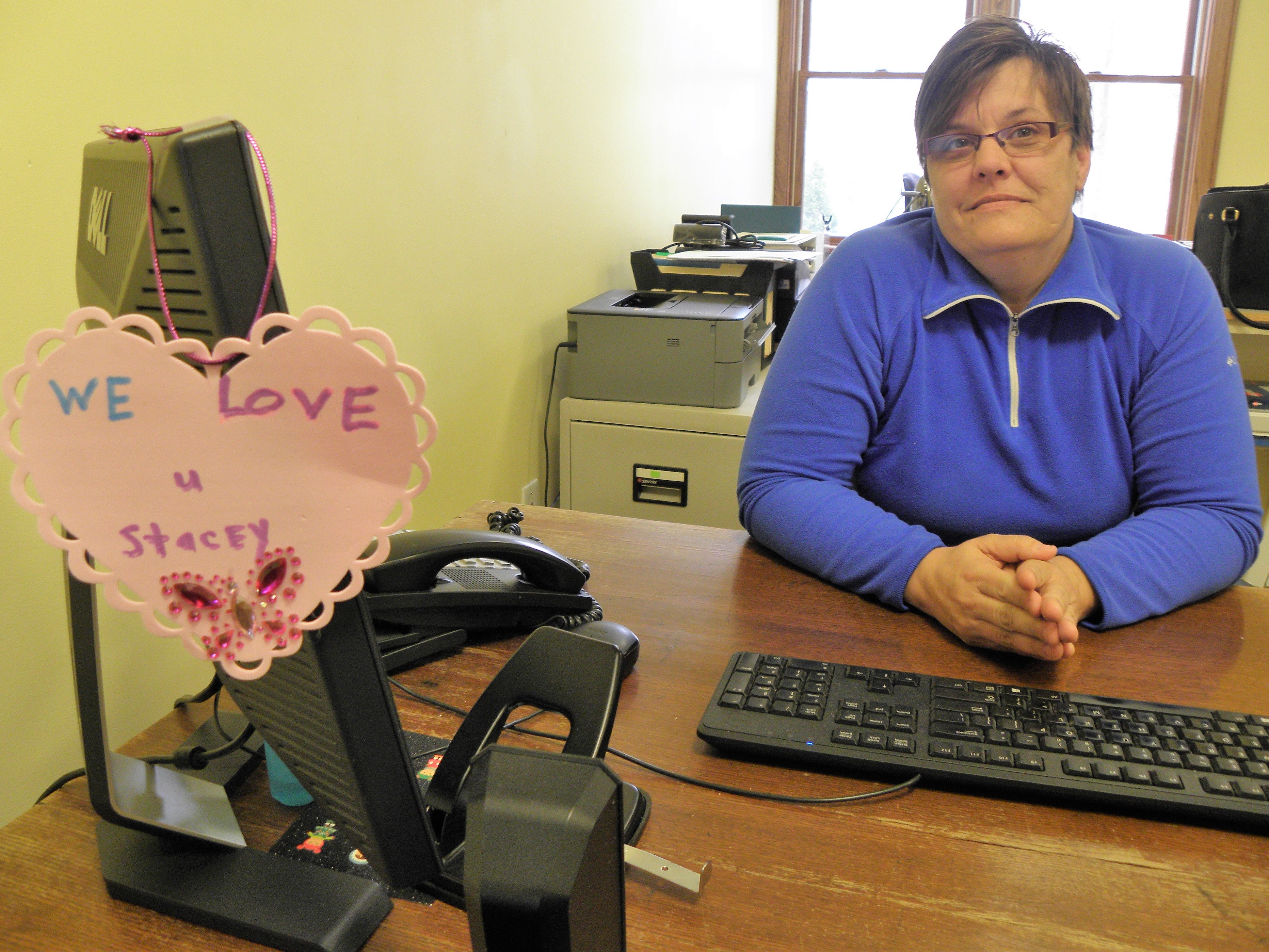 Stacey Hill has seen enough in her 20 years of property management around town to know why Cogswell Hall's waiting list is three to five years long. "Affordable housing on the West Side is scarce," she says, "especially housing with the amenities residents have here."
After three years as Cogswell Hall's property manager, Stacey is moving to another agency. Today (Feb. 2) is her last day here. She arrived in February 2015 after 20 years in property management with such firms as The Finch Group and a year off to help care for her grandsons. At Cogswell she has worked with residents in all phases of the tenant relationship: receiving applications, verifying their low-income status, moving them up the waiting list, getting leases signed and arranging the move-in. She has also collected rent and fees, coordinated room inspections, and, with the supportive services staff, worked with residents when something is wrong.
That approach to tenant problems is a special Cogswell touch, Stacey says. In most apartment buildings, a resident who violates a rule – by, say, smoking or hoarding – will likely just get a legalistic "noncompliance letter." Cogswell residents instead are contacted by social worker Diane Kragt, the manager of resident programming. This approach focuses on violators' behavior and how to change it – though also firmly reminding them, in writing if necessary, that the lease is a legal document and violating it can have consequences, up to and including eviction. As the property manager, "it relieves you of the responsibility of being the bad guy," Stacey says. It works, too, cutting in half, at least, the number of people who get as far as an eviction notice.
Cogswell's safety, security and cleanliness are among the other things that set it apart, Stacey says. Rent is 30 percent of your income, utilities included, and dining services are available for another 30 percent or by the meal. "In other situations you might have a full kitchen," Stacey says, "but if you get $12 to $20 a month in food stamps, which is usual for people on Social Security, how well are you going to eat?"
For most of Cogswell Hall's rooms, "when I started, there were people on the list as far back as 2010," Stacey says. Sending letters to see if they wanted to stay on the list helped clear it up somewhat, but it is still long. "I still tell people three to five years. About half of the applicants are planning ahead for themselves and are applying knowing they'll have to wait that long." The other half are referred by case workers – mostly from the Cuyahoga County Job and Family Services Division (https://cjfs.cuyahogacounty.us/) and sometimes from other places, such as a hospitals. The wait can be shorter for people coming from homelessness as federally defined, for whom Cogswell has 19 rooms set aside – all currently full. Those applicants are usually referred by FrontLine Service (http://www.frontlineservice.org), which helps people cope with homelessness, mental illness and trauma, or by Veterans Affairs (https://www.cleveland.va.gov/).
Stacey's new position is at a 47-unit building, 1850 Superior Ave. in downtown Cleveland, operated by the Famicos Foundation (https://famicos.org/). It is similar to and different from Cogswell Hall, she says. Like Cogswell, the Famicos building provides permanent supportive housing. However, it does not offer meals, and instead of an in-house supportive-services staff, FrontLine does that work. All residents there come straight from homelessness and most are on Housing Choice Vouchers (http://www.edeninc.org/housing-choice-voucher-program-mainstream--gateway.html). These provide rental assistance for low-income persons, funded by the U.S. Department of Housing and Urban Development and are administered by local housing agencies throughout the country. At Cogswell Hall, only five of 41 residents currently use those vouchers.