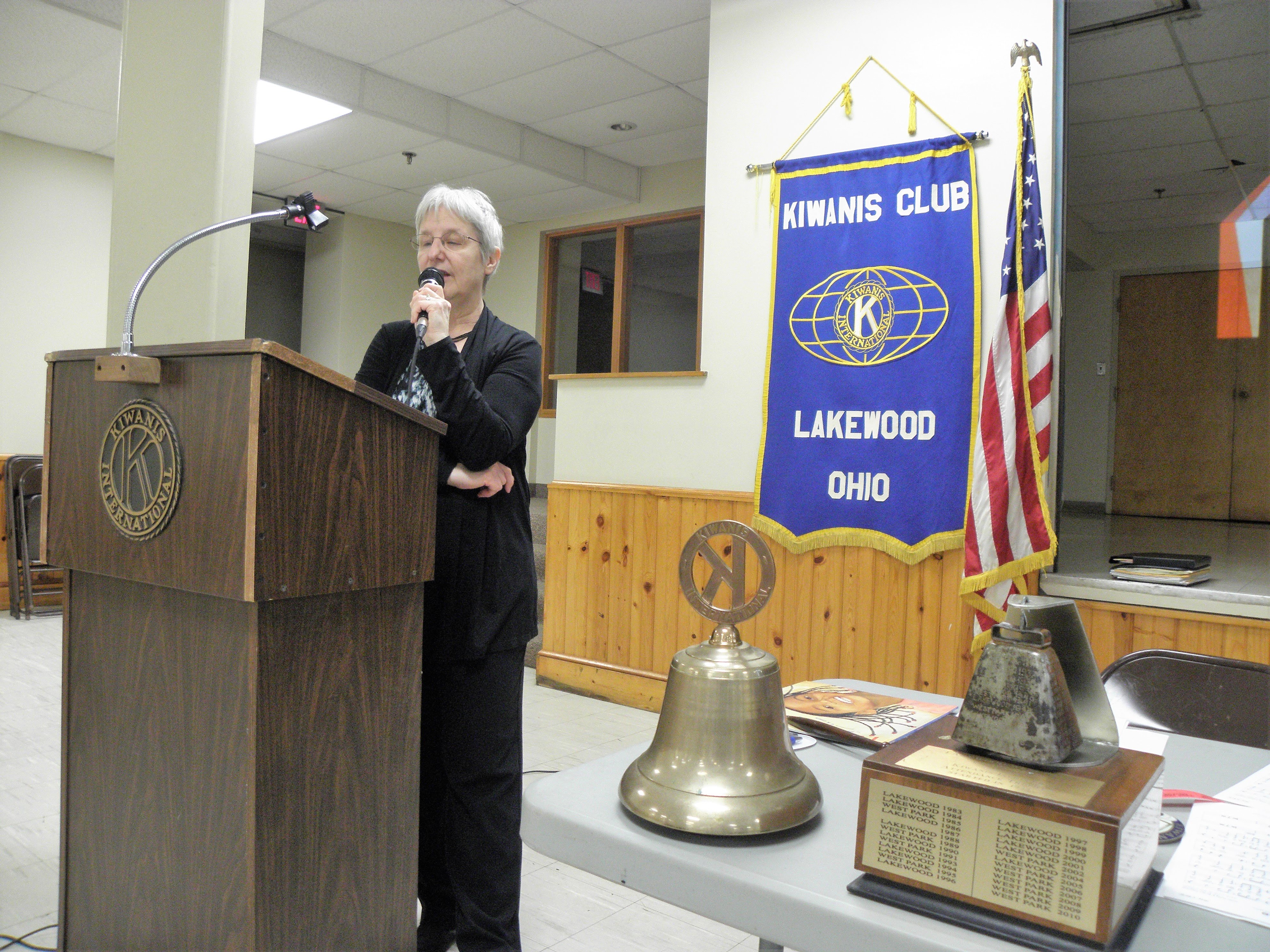 Don't believe every myth you hear about poverty or every claim you hear that anti-poverty programs don't work. That was the message this week from Diana Cyganovich, who heads Cleveland's Cogswell Hall – one of many anti-poverty programs that, she said, do work. She spoke Feb. 27 to the Kiwanis Club of Lakewood, Ohio, at its weekly meeting at St. Clement Catholic Church.
"It is easy to believe the myths about poverty and that anti-poverty programs are a failure when the poor are nameless and faceless," Cyganovich said, "or when the media sensationalizes the myths. The poor are real people, not much different from you and me. The vast majority are living in poverty because of a disabling condition, an insufficient fixed income, working at a low-wage job without benefits, loss of a job, or a lack of educational opportunities."
Cyganovich challenged myths with U.S. and Cleveland-area statistics and with pictures and stories of Cogswell Hall residents.
Myth: The poor are lazy and do not work..
Facts:"According to the U.S. Census, 66 percent of poor families have at least one person working. Most work part time or seasonally, although some work full time and year-round. They often work low-wage jobs that do not offer paid sick time or paid leave." At Cogswell Hall, "20 percent of our residents do paid work, are in job training programs, or volunteer daily or weekly at unpaid work. Take Kathy for example. Although disabled since birth, she has always worked as an adult. She is now in her 60s and still working."
Myth: Most entitlement and government benefits programs go to able-bodied people who choose not to work.
Facts: "Seventy-three percent of government benefits programs go to the disabled and seniors and another 18 percent go to the working poor. Only 9 percent goes to able-bodied, nonworking individuals – some of them single parents with very young minor children." Some Cogswell Hall residents "used to work but no longer are able to do so." Their past professions include social worker, nurse, teacher, police officer, home health aide, drill press operator, small business owner. Four military veterans live at Cogswell.
Myth: Anti-poverty programs are failing.
Facts: "Many anti-poverty programs work very well. The most effective has been Social Security. Poverty for seniors went from 35 percent to 9 percent between 1960 and 1965 as seniors signed up for Social Security. It has stayed at 9 percent since. Today 44% of seniors would be living in poverty if there was not Social Security. And Social Security Disability prevents 60 percent of disabled adults from living in poverty." Among other programs successfully fighting poverty, Cyganovich said, are the Earned Income Tax Credit, Supplemental Nutrition Assistance Program, Child Tax Credit and Childcare Assistance Program and "permanent supportive housing" programs. At one of those, Cogswell Hall, in the most recent year counted, 100% of residents kept or increased their income, 94% remained permanently housed and 75% of those developing a personal-goals plan met at least one short-term objective.
Cyganovich said "housing insecurity," and not just homelessness, is urgent. "In Cuyahoga County, 66,000 households are insecure in housing, paying more than 50 percent of income for housing. Of these, 15,000 have incomes at or below 30 percent of area median income. "Today, only one in four households qualifying for federal housing subsidies receive one because there is not sufficient funding for the program. In fact, 2.5 million fewer people receive rental subsidies today than did 15 years ago."
On a spectrum of housing programs in Cuyahoga County, Cogswell Hall part of the solution to these problems, Cyganovich said. "We provide truly affordable housing, basing tenant rent, including utilities, on 30 percent of income. Our kitchen provides nutritional meals at a low costs. Our in-house store, CogsMart, helps residents obtain food, household items, and personal care products without spending their limited funds.
"Our service staff works individually with residents to set and attain personal goals, provide case management, emotional support, advocacy, and educational and life-skills programs."
Cogswell Hall is an anti-poverty program that works, Cyganovich said – and the waiting list for prospective residents is typically three to five years long.