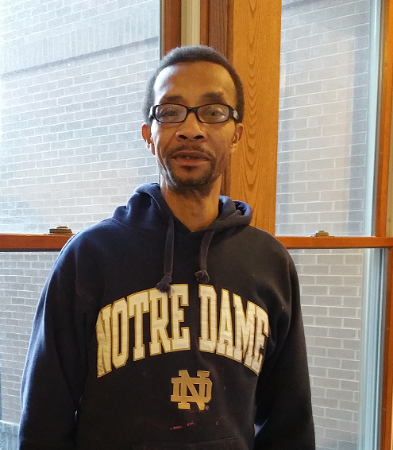 Kevin Brown joined the janitorial and housekeeping staff at Cogswell Hall in January as a trainee through the AARP Foundation's Senior Community Service Employment Program. SCSEP helps low-income, unemployed individuals over age 55 find work in the community. Cogswell Hall proudly partners with AARP to help train and prepare older job seekers for the work force. Previous trainees have gone on to receive job offers at Cogswell Hall and other organizations in the community.
Within his first week at Cogswell Hall Kevin approached Facilities Manager, Steve Malue, for an application for the open janitor position. Little did he know he was interviewing for the position the whole time. "Hard workers like Kevin are hard to find," says Steve, who noticed Kevin's strong work ethic and attention to detail right away. Kevin approached the job with enthusiasm and above-and-beyond commitment. He has stepped up to cover the responsibilities of housekeeper Kizzie Royal while she is on leave. Kevin's positive spirit and thoroughness have been noticed by residents, staff, and visitors alike. On a tour earlier this month, members of the Lakewood and downtown Cleveland Silver Sneakers were impressed by the immaculate condition and cleanliness of our historic building, thanks to the work of Kevin and housekeeping colleague Carla Johnson.
The family-like atmosphere is what drew Kevin to Cogswell Hall. He enjoys getting to know the residents and "putting faces to the room numbers." He appreciates the positive feedback and building relationships with the residents the most. "Serving others is the most fulfilling work," he says.
In his spare time, Kevin works with his sister to renovate homes and raffle them off to families in need. He also likes to write and sing gospel music. Keep up the great work Kevin, and welcome to Cogswell Hall!