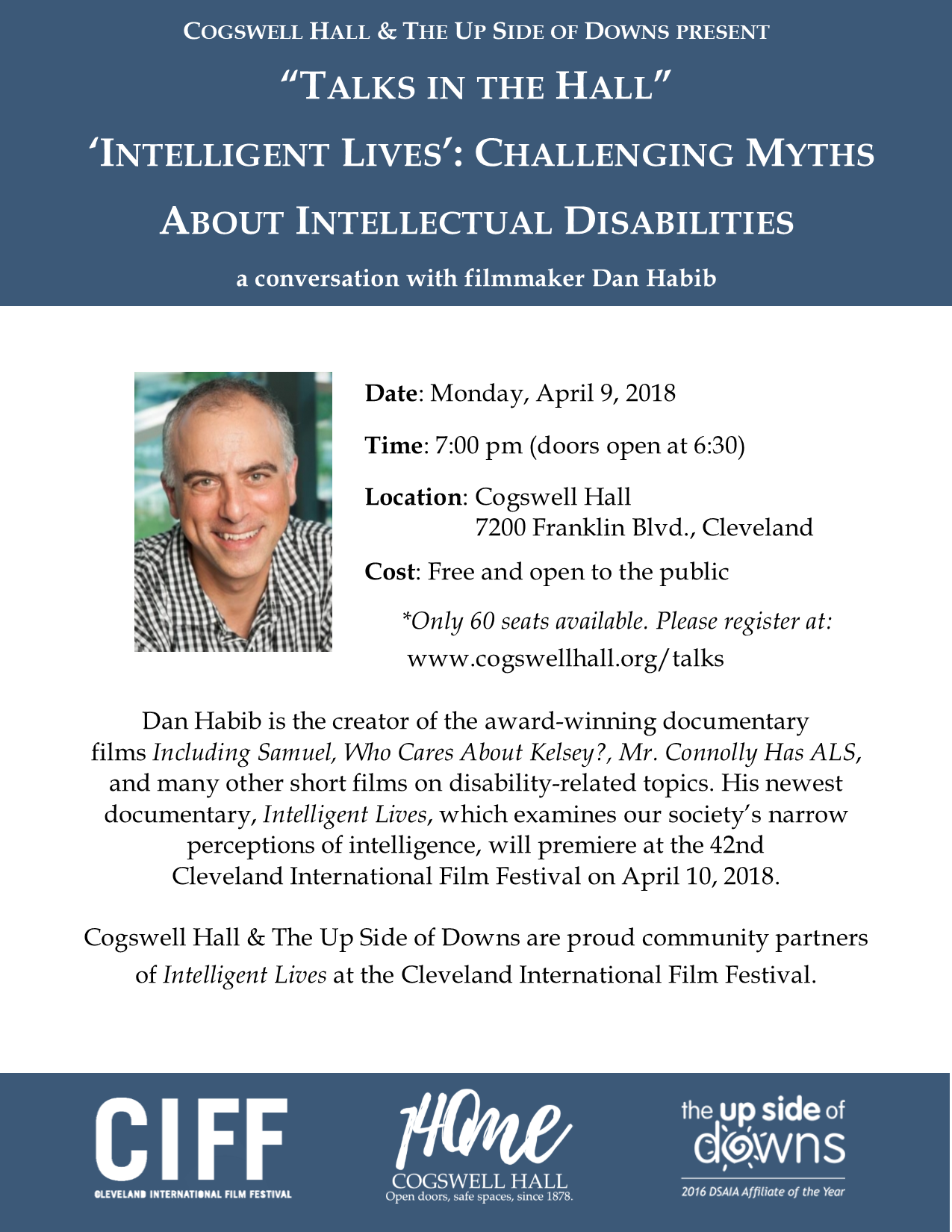 Intelligent Lives, a documentary featuring three young adults with disabilities who exceed what people expect of them, premieres at the Cleveland International Film Festival April 10 and 11. Two local agencies are hosting a free talk by its director and producer April 9 at Cogswell Hall on Cleveland's West Side.
The film argues for change in the narrow ways society often views people with intellectual disabilities. It features the struggles and accomplishments of three such people: Micah, Naomie and Naeer. "How much weight does an IQ score actually hold?" asks the Film Festival's program notes on Intelligent Lives. "Can a simplistic number truly tell us what someone is capable of?"
New Hampshire-based filmmaker Dan Habib, the producer, director and cinematographer of Intelligent Lives, will speak about the film and show excerpts from it at 7 p.m. Monday, April 9, at Cogswell Hall. The talk is free but requires advance registration at http://bit.ly/CogsTalks. A home for low-income adults with disabling conditions, Cogswell Hall is a community partner in the Festival premiere of Intelligent Lives, together with the Independence-based education, advocacy and support agency, The Up Side of Downs, devoted to issues related to Down Syndrome.
Intelligent Lives will have two Festival showings at Tower City Cinemas in downtown Cleveland:
• 7:10 p.m. Tuesday, April 10. Tickets are available at www.clevelandfilm.org, 877-304-3456, or in person at the box office: $14 for Festival members, $16 for non-members, and $14 for students and seniors (in-person only). Anyone can get a $2 discount by using the code "COGS" or "UPSIDE" when ordering.
• 12 noon Wednesday, April 11. Tickets to this free Taste of the Festival showing are available starting at 11 a.m. April 11 at the Festival box office in the Tower City Cinemas lobby, first come, first served.
You can read more at these links:
• Cleveland International Film Festival Intelligent Lives page: https://www.clevelandfilm.org/films/2018/intelligent-lives
• Info and registration page for free director's talk at Cogswell Hall: http://cogswellhall.org/our-events/talks-in-the-hall.html
• Intelligent Lives media kit: https://www.dropbox.com/sh/3in7zrmg215x74o/AABak91aOfTOLZvTlFwJk_Kwa?dl=0
• The Up Side of Downs home page: http://www.theupsideofdowns.org
• Cogswell Hall home page: http://cogswellhall.org/welcome.html