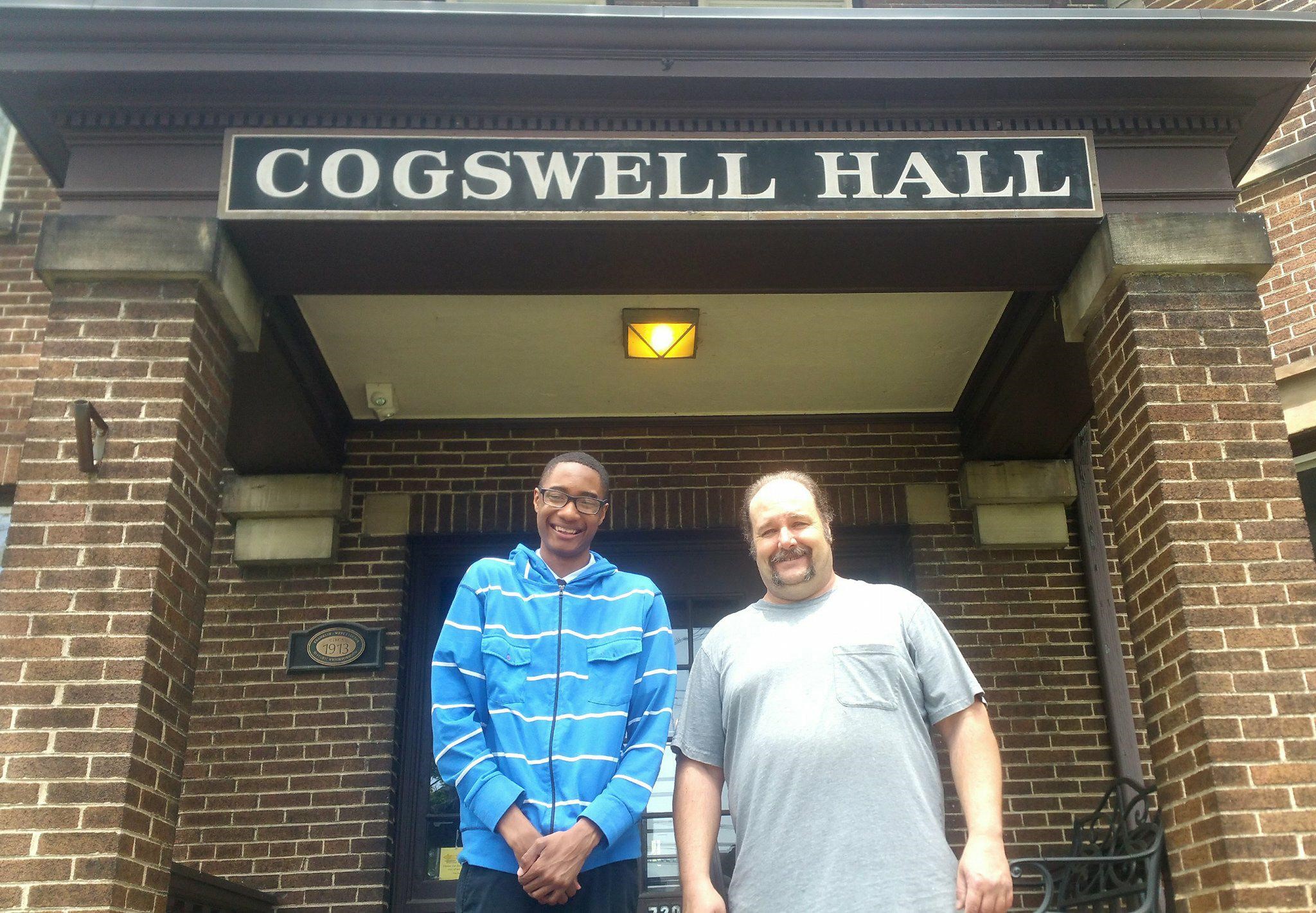 May 17 was the last day at Cogswell Hall for young volunteer Stephen Johnson. Stephen was matched with Cogswell Hall through the St. Martin de Porres High School Corporate Work Study Program in 2014. Since his freshman year, he has worked in our facilities management department under the supervision of manager Steve Malue. To avoid first-name confusion and because of his friendship with Steve, Stephen was affectionately nicknamed Junior by the residents and staff of Cogswell Hall.
The Corporate Work Study Program requires all students to work one full day each week at a local business or organization in order to build life skills, develop professional relationships, and gain exposure to various industries and career paths. Junior is a thoughtful 18-year-old who comes to work with a positive attitude and eagerness to complete his tasks in an efficient manner. He has done a lot of growing since he started his work-study with us. Not only has Junior exhibited increased maturity and a willingness to learn, but he has also grown a few feet along the way.
Thinking back to his first day at Cogswell Hall, he remembers how remarkably different it was than being at school. At first, he struggled with the transition from the role of "student" to "employee." A fast learner, he quickly became Steve's right hand man. "The standards I am held to in the workplace have pushed me get my work done and not procrastinate." The time management he learned on the job will be a useful skill, as Junior will enroll at Cleveland State University in the fall. He plans to major in computer science.
The most valuable lesson he has learned, though, Junior says, "is the ability to communicate with people with perspectives different than mine." His interactions and friendships with the residents have taught him to understand different viewpoints and to be mindful of others' challenges. One of his favorite memories is of working alongside Barry, a resident who has low motor skills and short-term memory loss from a traumatic brain injury. "Barry always likes to brag about how perfect he is. One day, Steve spilled paint all over Barry's pants and we all just laughed. It was just one of those funny memories I'll always remember…I guess you had to be there to understand," Junior reminisces.
What will he miss most? The bonds he has formed here at Cogswell Hall. In particular, he will miss the good times he spent with his supervisor. "Steve has been a great mentor to me," Junior said. "When I was nervous freshman year, he made me feel at home." He is grateful for the life lessons, jokes, and friendship Steve has always shared with him. "Steve has taught me more than I could have imagined in these four years. I will never forget my time at Cogswell Hall." He hopes to visit and volunteer at Cogswell Hall as much as he can.
Junior graduates from St. Martin de Porres on June 3. He hopes to find a job over the summer, but until then he plans to enjoy his freedom until starting college in the fall. Best wishes, Junior. Make your Cogswell Hall family proud!