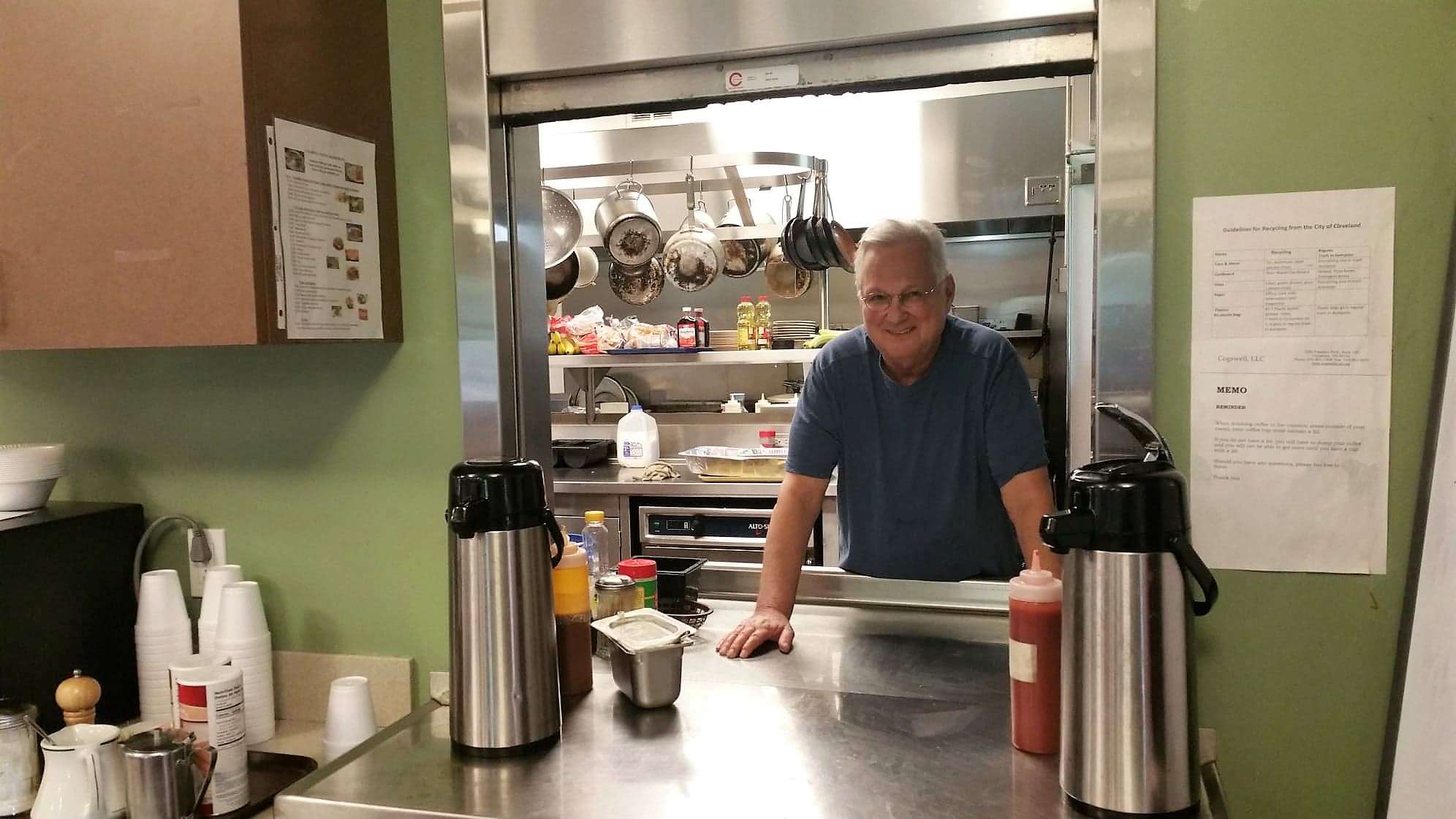 He worked as a machinist and got his college degrees at night. He was a leader of his union local, then traveled the world as a corporate workplace safety and health director. He took night classes again, this time in cooking. Now Cogswell Hall's residents are benefiting from all that experience. He cooks and serves them meals most Thursdays. He does the dishes, too.
He is Tom Sear of Bay Village, Ohio, and Cogswell Hall is lucky to have him as a volunteer, staff members say. "Tom's a cool guy," says Kitchen Manager Derrick (DJ) Seals. "He's really a pleasure. He does anything we ask and doesn't expect anything in return. He's a giver." This week Tom brought in his own tools and cleaned out grease buildup from the stove. "He took the project on himself," says Facility Manager Steve Malue. "That was a lot of work. He's always willing to go over the top to help our kitchen staff out. He has a great sense of humor and a strong work ethic -- always shows up with a smile on his face and ready to get his hands dirty. And he's punctual. He is usually here early, waiting in the parking lot."
Tom arrives at Cogswell about 6:30 a.m. to put the coffee on and get breakfast ready. He works through lunch and cleanup till about 2 p.m., doing "a little of everything -- whatever they need me to do," he told the Cogswell Chronicle in a July 12 interview. "I step in for the regular staff. If DJ has to go out shopping, I cook. I wash dishes. Today I'm so dirty because I was cleaning the grill. I'd be here every day, except I'm 72 years old. I'm retired and want to stay that way."
Tom worked for 43 years for Parker Hannifin, a Cleveland-based manufacturer of industrial and technical products and systems. He was a machinist, then a tooling engineer -- and eventually union local vice president -- while taking night classes at University of Akron, earning an associate's degree in engineering and a bachelor's degree in education. Around the time the Occupational Safety and Health Act of 1970 took effect, he wrote a college paper about it. Parker Hannifin then hired him on the management side as a specialist in safety and health. The company had more than 130 plants around the world, so Tom traveled extensively, giving presentations on health and safety laws.
Later in his career, Tom took two years of night classes at Loretta Paganini School of Cooking at the International Culinary Arts & Sciences Institute in Chesterland, Ohio. After retiring in 2009 as Parker's Corporate Safety and Health Manager, he volunteered as a cook for a few years in a church-based meals program in Lakewood, Ohio. After that opportunity ended, Tom heard Cogswell Executive Director Diana Cyganovich mention one day -- at a meeting of a group they both belong to -- that Cogswell Hall could use kitchen help. He started volunteering here last winter. His wife, Pam Carson, also volunteers extensively on Cogswell Hall's spring tea committee.
Tom appreciates the personal approach in the dining room. The church-based meals program he worked in fed hundreds of people, so each guest got the same meat, vegetable and starch. Cogswell Hall's residents have a couple of choices at each meal and can always get a hamburger or hot dog instead. Tom is getting to know the dining room regulars, and, while there's the occasional cranky customer, he finds almost everyone friendly and appreciative. "Food is one of the things that's the basis of life," Tom said. "Most people smile when you serve them a good meal."
Tom can relate to anyone easily, Steve Malue says. He responds to residents based on their individual needs and treats them with respect and patience. In the kitchen, "Tom has become one of the guys," Steve says. "He is one of the nicest men I've ever met."
[Sakina Kapasi contributed to this article and took the photo of Tom above.]