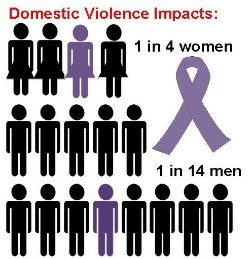 People who survive violence in their homes sometimes feel ashamed. Each day, people who care about them work to remove that stigma and amplify survivors' voices. This month, inspired by the #MeToo movement, a national #SurvivorSpeaks campaign aims to empower survivors to share their stories and make more people aware of this form of violence, which affects millions of women, men, and children.
Residents arrive at Cogswell Hall with a variety of physical and/or mental challenges. Some have survived domestic violence. Here is the story of one of them, who now has a safe place to call home at Cogswell Hall. We are grateful to the National Coalition Against Domestic Violence for promoting #SurvivorSpeaks. Like many others being told around the country this month, may this story increase awareness and reduce stigma.
---
"I should have noticed the red flags," said Helen (not her real name)*. "But how would I have known. It was my first marriage and his fourth." Already independent at 18, Helen left her parents' home and set out on her own. She lived with friends, held a steady job and made ends meet. She struggled through homelessness for many years. She lived out of her car when she could not find a place to stay. One day in 2006, she brought her car to an auto shop for maintenance. When she went to pay the mechanic, he asked her out instead of taking her payment.
She and Paul (not his real name) dated on and off for a few months before getting married. He was kind to her but not the affectionate type – and she was respectful of that. The early weeks of their marriage were peaceful. He took care of her and she of him. She did what she could to build a home and a life together. Slowly, though, he began to take control. First, it was comments on her appearance – what to wear and how to do her makeup. Then he pressured her quit her job and isolated her from friends and family.
He never beat her, but his violence took the form of sexual abuse. "In the bedroom, he always got what we wanted one way or another," Helen said. She thought it was normal at first.  "I was doing everything in my power to make him happy. I thought it was part of being a good wife."
Circumstances changed for the worse in 2009. Paul began taking advantage of her when she was unconscious. He maimed and raped her. That awful day, she did not call the police. She did not seek medical attention. She was scared. She spent three months frozen, losing the will to live. When a friend eventually convinced her to report the incident to the police and seek medical care, it was too late.
She found the support she needed in her dad and sister. They helped her move out and gave her a place to stay. That too didn't last long. Helen was back to living in her car within three months. It was then that she connected with a social worker, who helped her manage her anxiety and depression and get additional help. The social worker referred Helen to Cogswell Hall and helped her submit an application.  She was approved – right around the time Cogswell Hall was adding rooms with a renovation and expansion. Just three weeks later, she had a place to call home.
"What a relief it was walking into the building," Helen said. "I felt like I was on vacation." She spent many hours in the office of Program Manager Diane Kragt, who always listened and offered support. "It felt like a weight had been lifted," Helen said. At first, the transition was overwhelming. She was not used to the freedom of truly independent living. Sometimes she found it hard to leave her room. But Diane and other members of the Supportive Services staff helped Helen embrace the community atmosphere of Cogswell Hall. Now she couldn't imagine her life without it. At Cogswell Hall, Helen gained the stability and safety she needed to thrive.
*The names "Helen" and "Paul" in this story are fictional in an effort to protect the identity of the resident.