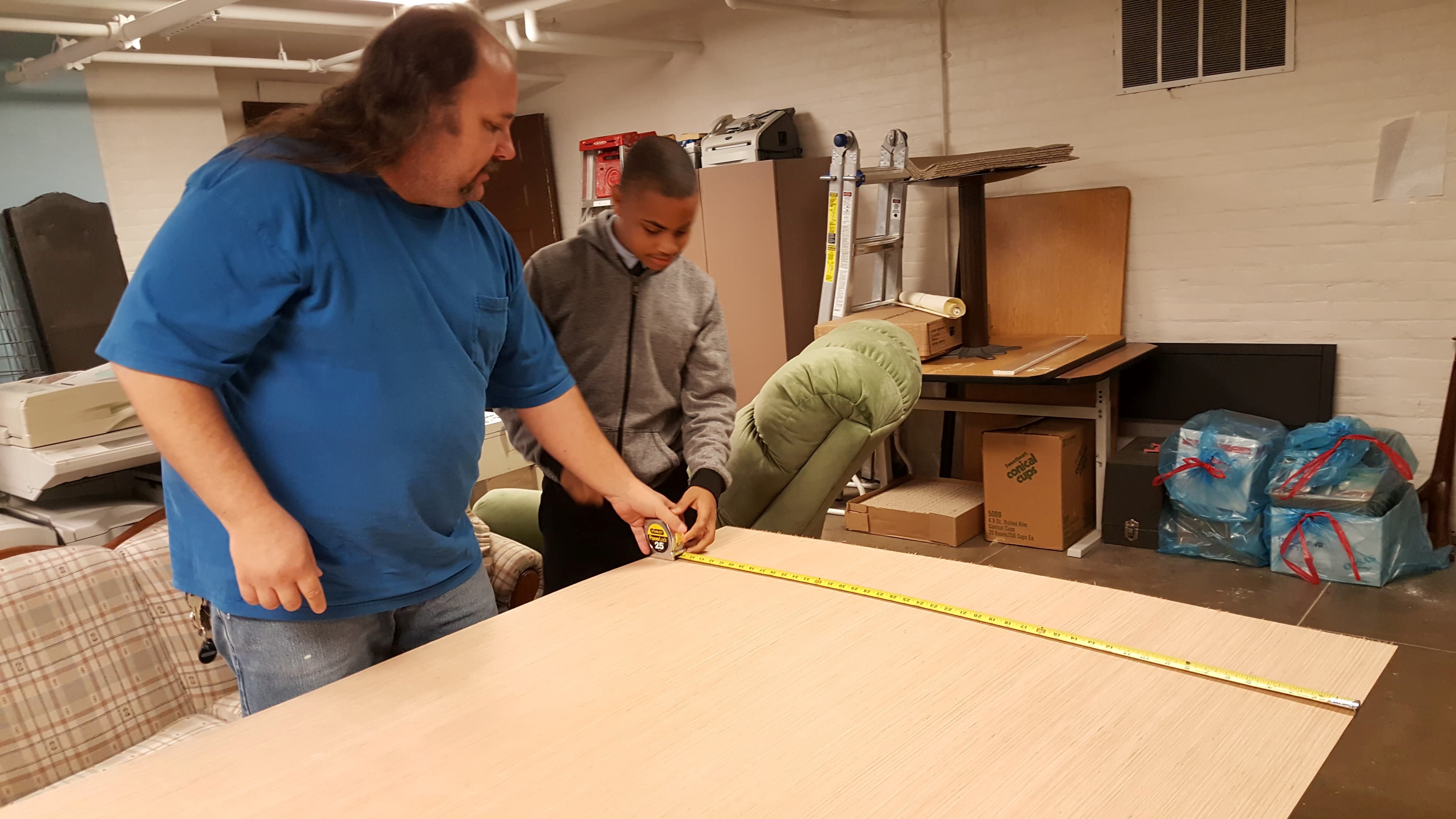 Nervous at first but now at home, Saint Martin de Porres High School 9th-grader Jason Alexander is settling into his assignment at Cogswell Hall in the school's Corporate Work Study Program (CWSP). Jason started in September and will be here once a week throughout the school year.
CWSP sends Saint Martin de Porres students out of the classroom and into the workplace of a local business or organization. They gain exposure to a variety of industries and career paths, develop professional relationships, and build life skills. This is Cogswell Hall's fifth year hosting a CWSP student. Stephen Johnson (known at Cogswell Hall as "Junior") was here from 9th through 12th grades. He graduated in May 2018.
Jason knew very little about Cogswell Hall when he learned of his work-study placement. After some initial research on the organization, he began to understand and identify with the mission – Jason's uncle and sister have both experienced homelessness. Cogswell Hall made sense. He was happy to be assigned somewhere he would be able to make an impact on others in similar situations. 
When he arrived on his first day, the beauty of the historic building, paired with the modern construction of the addition, struck him. He was nervous. Not having had a job before, he had no clue what to expect. But when he met Facilities Manager Steve Malue for a tour, he began to feel comfortable. "Steve's funny and easy to get along with," Jason said. "He knows the ins and outs of Cogswell Hall." (They are pictured here taking measurements for elevator flooring.) After only a few hours, Jason felt right at home. He especially appreciated the friendly welcome from residents and staff.  
Jason now looks forward to his weekly shift. He enjoys working close to the residents and getting to know them -- especially Barry, who is always there to pass on words of encouragement and remind Jason that he's on the right path.  
Jason says his favorite thing so far is working with and learning from his mentor: "When I'm working with Steve, I do it better." Already looking ahead, Jason hopes to attend college to earn a bachelor's degree and pursue graduate school. He hopes to build a career around helping others. Welcome aboard, Jason!