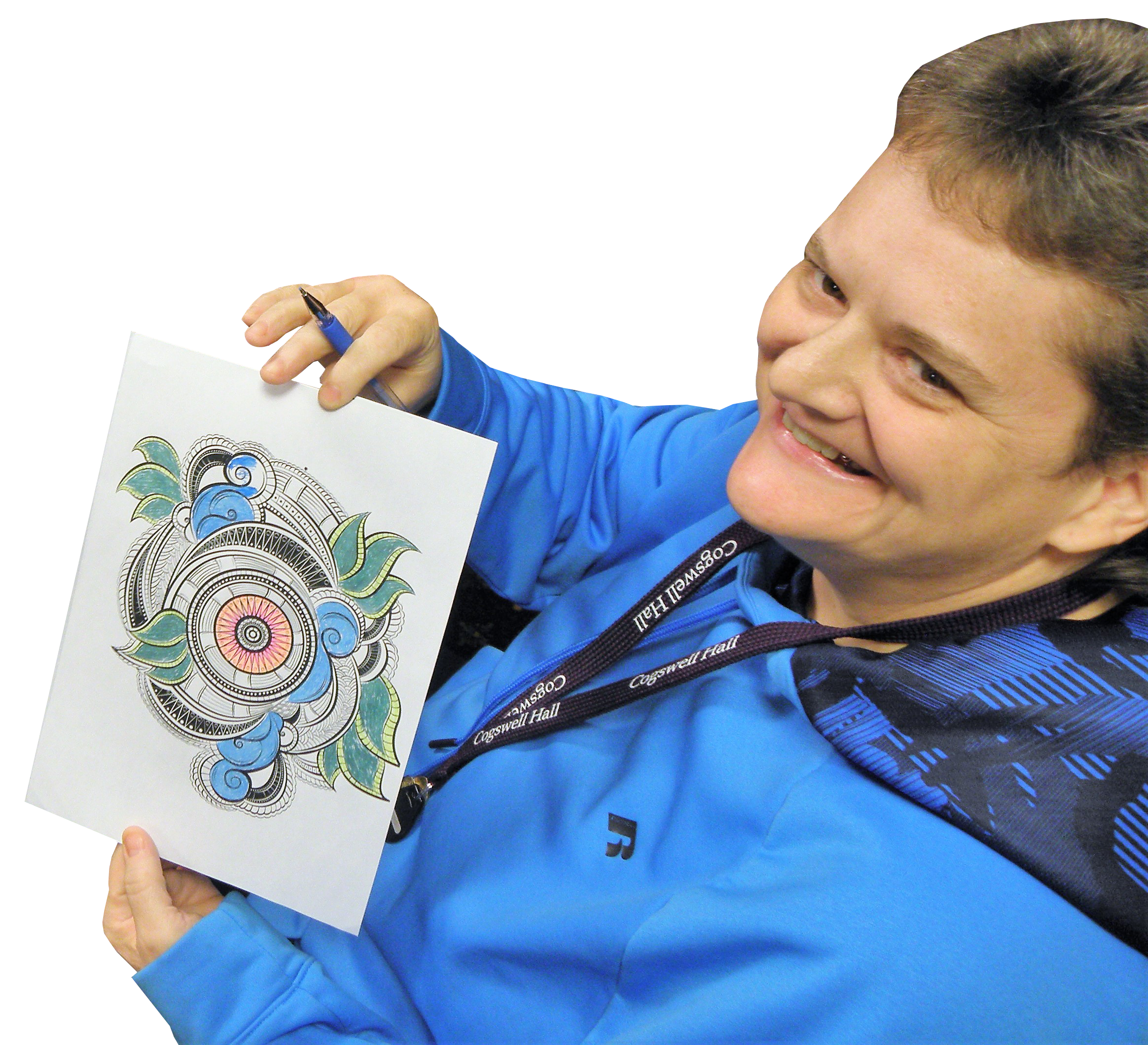 Doreen Weir moved to Cogswell Hall on Dec. 22, 2017, with only a backpack to her name.
"I had the best Christmas I ever had in my life," Doreen said. "I closed the door and sat in the middle of my room and cried for two hours, telling God how thankful I was."
Before Cogswell, Doreen's life was unstable. Living with schizoaffective disorder since age 9, she was discharged at age 18 from a mental hospital to the street. She spent years homeless, in dreary group homes and even in a nursing home, returning to the hospital frequently. Life in group homes, especially, made her symptoms worse.
Now Doreen exudes joy. She takes advantage of all that Cogswell Hall provides, ranging from professional social support to Bingo nights, crafts and outings. She takes pride in decorating her room. Her added "toolbox," as she calls her team of caseworkers and therapists at the Centers for Families and Children, is just a bike ride away. Since arriving at Cogswell, she has set a personal record for staying out of the hospital, returning just once this year for her shortest stay ever. "In the past, I kind of used the hospital as my safe space," Doreen said. "When I got here, this is my safe space." Stable housing and support have made it easier for Doreen to tap into her own resilience and positive outlook. "Everybody has their ups and downs," she said. "When things get bad, I say, 'This, too, shall pass.' And it does."
Doreen's mental illness used to make it hard for her to watch television. When Cogswell hosted a movie night for residents and neighbors a few months after she moved in, she decided to give it a try. At first, she doubted that she could make it through the movie. She almost went back to her room, but decided to stay. "I sat down," she said. "I laughed. I've never felt such belly laughs. There were times in my life I couldn't do that." The next day, Doreen told Cogswell Hall Executive Director Diana Cyganovich about her success. Diana gave her a high five and told Doreen how wonderful it was that she was doing well here. "Diana, she's wonderful," she said. "The staff will bend over backwards for you. They treat us right, like we're not just mentally ill – we're adults."
Residents come from many backgrounds and face a variety of challenges, and Doreen appreciates how Cogswell Hall helps them support each other. Mediations, for example, help people come together when conflicts arise. "When someone's having a bad day, we pick up and help," she said.                               
Doreen is most proud of her room. Far from having just a backpack to her name, she now has baby blue curtains, a pink comforter, and a desk and chair to sit in and look out the window. "I have something to come home and look forward to," she said. She is reconnecting with the world. She recently took a bus trip to New England to visit her sister, whom she hadn't seen in 15 years. She plans to go back for Christmas. She's beginning to look for employment and has even thought about finding her own apartment someday, after she reaches the goals she and her mental health support team have set. It will take time. At Cogswell Hall, she is finding the time and support she needs.
Laura Calhoun, a junior at Washington and Lee University, Lexington, Va., was an intern at the Cuyahoga County Juvenile Center and volunteered at Cogswell Hall in the summer of 2018. Cogswell staffers Sakina Kapasi and Hans Holznagel contributed to this article.