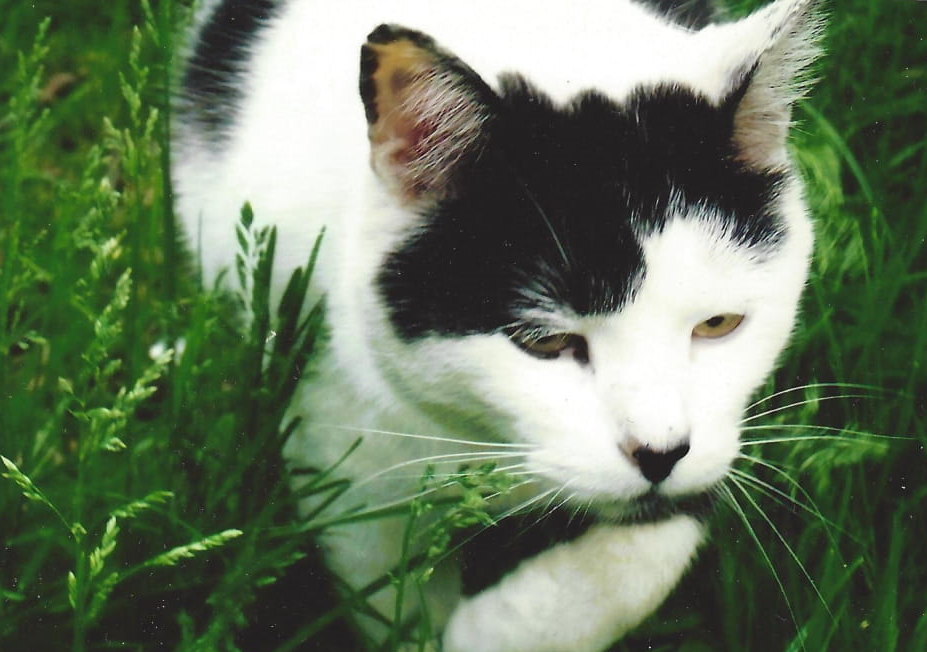 Cogs the Cat, an outdoor cat loved and cared for by Cogswell Hall residents, will emerge from feline history this year to represent Cogswell Hall both online and in the community. 
Five years ago the real Cogs passed away, but he is far from forgotten. His image appears in a painted hallway mural. He often shows up on a special "naming tree" at holiday time, where residents remember people and creatures dear to them. He was even laid to rest in a butterfly garden just east of the building. 
A memorial was organized for him and another beloved cat, Midnight, in 2016 where residents spoke emotionally about how much a cat can mean when you're feeling lonely or facing life's obstacles. They remembered how relaxed and friendly Cogs was. How he rubbed against your leg. How he was even a good listener, especially when you felt like you couldn't talk to anyone else. For many  residents, caring for Cogs gave them a chance to protect a being who had no one to turn to and nowhere to go -- much like themselves. Cogs was a source of unconditional love for residents who were close to him and he quickly became a member of the Cogswell Hall family. 
This active caring was, and still is, mutual. Cogs was the first of many cats whom residents "adopted" on the grounds: not only feeding him and arranging winter shelter for him, but even pooling their limited funds for occasional vet visits. Since then, they have worked as a group -- called the neighborhood Cat Patrol -- to look after nearby stray cats, who always seem to call Cogswell Hall's grounds home.
Really, then, who better than Cogs to symbolize what makes Cogswell Hall special? Warmth and caring. Shelter and healing. A listening ear. A community of help for the lonely and struggling. And the fact that people who receive help here often "pay it forward" because they, too, have much to offer. Cogs embodies all that makes Cogswell Hall a place to call home. 
You're invited to follow Cogs this year as he pops up in two versions – digital and plush – to illustrate our mission. You'll see him in person in activities around the Hall and at events in the community. Follow his journey on Instagram (@CogstheCat) and watch for him on Cogswell Hall's Facebook, Twitter, e-news and website using hashtag #CogstheCat.