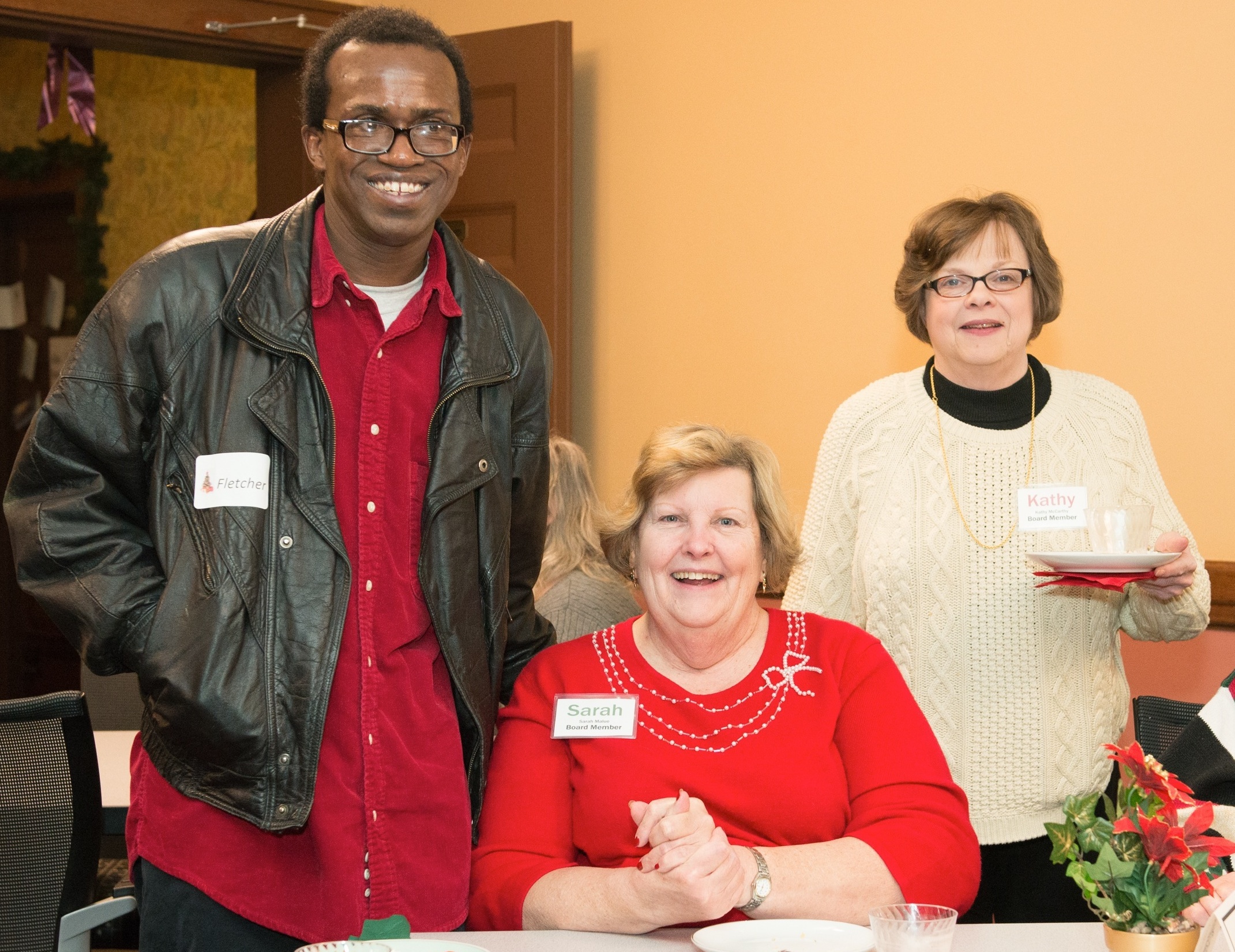 Sarah Malue of Parma, Ohio, a volunteer leader through decades of transition and expansion at Cleveland's Cogswell Hall, died Jan. 20, 2019, after a long battle with cancer. She was 73. The family will receive visitors Monday, Jan. 28, from 4 to 8 p.m. at Zabor Funeral Home, 5680 Pearl Rd., where Sarah's funeral will be held Tuesday, Jan. 29, at 10 a.m.
Sarah served on Cogswell Hall's Board from 1988 to 2001 and then again from 2005 until the time of her death. She was Board president from 1994 to 1997, and was a constant and generous supporter of Cogswell's work. She helped guide the West Side residence for low-income adults in retaining its personal focus on helping individuals in need, even as it changed from being managed by its volunteer Board and a live-in resident director into a more standard nonprofit agency with an executive director and other full- and part-time professional staff positions. The Hall also underwent a physical renovation and expansion in 2009, going from 30 women housed in convent-style rooms with common bathrooms to 41 women and men with larger single rooms and private bathrooms. It added more common spaces for residents, and, with them, more supportive services.
Colleagues say Sarah was central to the success of these changes. They cite her business and financial expertise, gained in a 34-year career with Charter One (now Citizens) Bank, as well as her personal presence as a bridge from an older era to a newer one. Her aunt, Bonnion Forbes, Cogswell Hall's live-in Resident Director from 1977 to 1997, first invited Sarah to volunteer. Sarah then invited other women to do likewise, many of them acquaintances through a business women's group.
In those early years, "it was a family-run type of thing, and it relied on the dedication of people like Sarah," said Ethel Horvath of Berea, a Board member from 1997 to 2009. "I got involved because a friend invited me to come down and play Bingo with the residents. It was more casual. We would have lunch there once a month and we got to know the residents very easily. But we also dealt with things like people not showing up for work and the Board filling in." As society changed, with new options for senior housing and other services, Cogswell Hall had to change as well, Ethel said. Many people in Sara's position "might have been in opposition," given family connections to an older era. But Sarah, to the contrary, "stayed involved and applied her business sense to the change that had to be made," Ethel said. Significantly, Sarah served for many years on the Board of an important funder, the Women's Philanthropic Union, formed by 19th- and 20th-century founders and leaders of Cogswell Hall.
"She was a careful steward of Cogswell Hall," said William Culbertson of Orange Village, an attorney at the Cleveland firm Baker Hostetler and current president of Cogswell Hall. In 2014, Sarah, then on the Governance Committee, interviewed him to see if he would be a good Board member. "I remember a wonderful sense of humor coupled with what was clearly a resident focus," Bill said. "The residents came first. It was serious. Sarah set the example for the Board and everyone who works there that everything we do needs to further the lives of the residents." She gave generously of her time and resources, Bill said, but "it goes well beyond that service component. She made me feel welcome and valued. I felt good in her presence. I loved being around her. What I distinctively remember is her wonderful laugh. That will be missed."
Sarah had multiple ways of giving, said Marilyn Coleman of Lakewood, a Board member since 2004. "Her generosity went above and beyond for every event or request that we had," Marilyn said, noting, for example, an annual Night at the Races fundraiser Sarah helped start in 2011. "She slaved over that every year and always filled a couple of tables with her guests. She was the biggest ticket seller and we counted on that. She donated huge beautiful platters of pastries to our events. You could always count on Sarah for whatever you needed." Her other Board work was likewise exemplary, Marilyn said. "She was the Governance Committee leader, and sometimes the whole committee, for a long time. She was very involved with recruiting and training new board members. I would say that she was the mother of the Board in many, many ways. She was our rock. We will feel the ramifications of her departure more than we realize for a long time to come."
"When I joined Cogswell's Board, she was very instrumental in walking me through what was expected of me," said current Board secretary Irene Patton of Brookpark, a member since 2006. "I can't say enough about her. I will surely miss her laughter, smile, grace and wisdom. She was a very dear friend and I will miss her terribly."
"For Sarah, the people living at Cogswell Hall always came first," said Diana Cyganovich, Executive Director since 2002. "When we first met at a Women's Philanthropic Union annual meeting her affinity for Cogswell Hall and her compassion for the people living here were very apparent. She willingly served twice as a board member. She was a quiet, thoughtful leader, frequently connecting today's work with the history of the organization. Sarah made a point of getting to know each person living here and was a wonderful blend of compassion, business sense, and a doer. It has been a privilege working with Sarah and I will miss her friendship, leadership and willingness to step in wherever needed, including once cooking Christmas dinner."
In a book of Board profiles about 10 years ago, Sarah wrote as her motto: "You only get to go by in this life one time, so make the most of every moment and never have any regrets about anything you do. Even if it doesn't turn out exactly like you want, it is a valuable experience."
Sarah's survivors include her son, Steven Malue, Cogswell Hall's longtime Facility Manager; his wife, Sharon, and their children, Casey and Charles; Sarah's brother, Patrick Malue; and Joan Malue, widow of Sarah's late brother, Charles. An obituary is at the Zabor website.
Sarah, seated, is pictured here with resident Fletcher Shepherd (left) and Board member Kathy McCarthy at an annual Cogswell Hall holiday party in 2014.