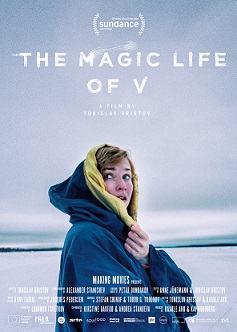 The Magic Life of V will be Cogswell Hall's partner film at the 2019 Cleveland International Film Festival. Showings are Wednesday, April 3, at 7:30 p.m. and Friday, April 5, at 1:50 p.m. at Tower City Cinemas downtown. Tickets go on sale to Festival members March 8 and to the public March 15. Use the code COGS for a $1 discount.
The 87-minute film tells the story of a young woman, Veera. Haunted by childhood traumas, she tries "to become more independent through live-role-playing," says a description from the Festival. "As she guides herself and her mentally disabled brother through the world of multiple roles and identities, witches and wizards, she finally finds the courage to face the demons of her own past -- namely, their abusive father." The film's Bulgarian director, Tonislav Hristov, is based in Finland and Bulgaria. The Magic Life of V premiered in January at the Sundance Festival in Utah. It is in English, with Finnish subtitles.
"This film's topics are a good match for us," said Cogswell Hall Executive Director Diana Cyganovich, who will give brief remarks before each April screening. "Many of our residents experienced this kind trauma as young people, and some have disabilities similar to those of Veera's brother." Cogswell Hall provides housing and support to 41 low-income adults who have a variety of disabling conditions. They come from homelessness as well as other forms of housing instability.
The Festival's Community Partner program involves local nonprofits in promoting films on topics related to their work. Cogswell Hall staffers will be at the Festival's "Community Engagement Corner" with information on the work and mission of the agency, which is in Cleveland's Detroit Shoreway neighborhood.
Click here for the complete lineup of 2019 Festival films.