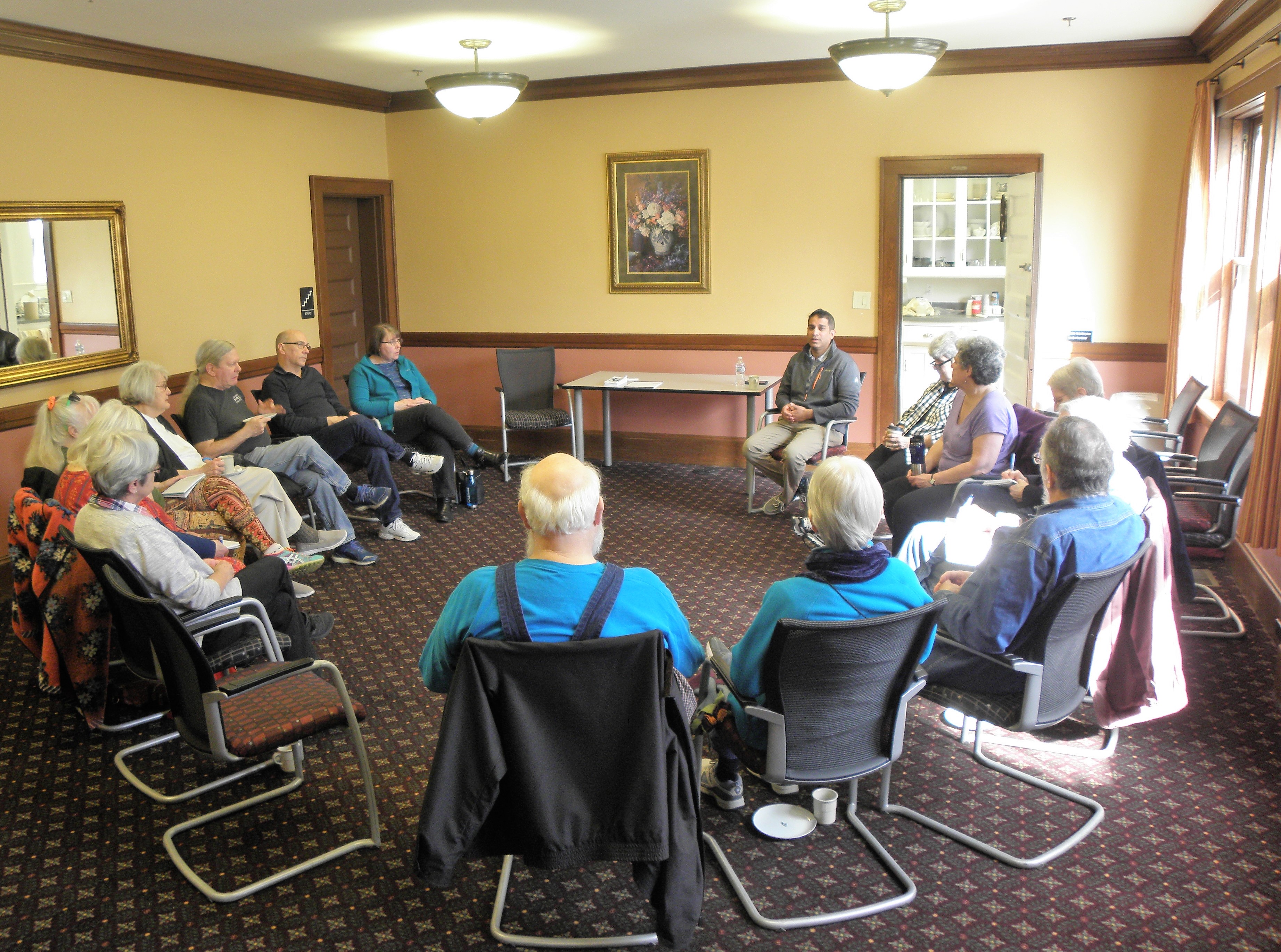 Planning – and, frankly, planning for the worst – is a key to aging in your own home.
That was one point of an April 13 talk by Greater Cleveland's lead advocate for people who receive long-term health care.
Nate Cyrill, interim director of the Long Term Care Ombudsman program serving five counties, spoke to 14 West Siders in the latest in an occasional series of free "Talks in the Hall" at Cogswell Hall. The event was cosponsored by the Cleveland Westside Village, a group of elders committed to aging in their own homes. Barbara Prociak, an ombudsman specialist and volunteer coordinator on the LTCO staff, also took part in the discussion.
"Everyone wants to stay at home," Cyrill said. But people need to know what they'll do when managing daily living around the house becomes difficult due to declining health and mobility. "The care you need as you age may be minimal or extensive, and there is a whole range in-between."
To decide whether "aging in place" will be safe and manageable, Cyrill advised asking your physician and consulting with family members or other people likely to care for you. Knowing neighbors and others in your community – people who will notice if they haven't seen or heard from you – is also important, Prociak said.
If you are on Medicare and do not qualify for Medicaid, you must probably pay on your own for many kinds of in-home services, Cyrill said. Medicare sometimes covers certain limited at-home services prescribed by a doctor, such as skilled nursing or therapy after a hospital stay. But you'll have to come up with your own funding for many other kinds of help from a private home-care agency. Asking such an agency which services are covered by Medicaid, Medicare or other forms of insurance is the surest way to know, said Pat Murray, a Westside Village member who is also on the LTCO Board.
The ombudsman program can investigate concerns and complaints for people receiving services at home as well as for those living in a long-term care facilities, Cyrill said. Its six field staff cover 650 facilities (34,000 beds) in Cuyahoga, Geauga, Lake, Lorain and Medina counties, plus some 15,000 other people receiving long-term care outside of facilities.
People receiving long-term care and their allies should first bring up problems directly with the residence or caregiving agency involved. When issues can't be resolved, an ombudsman often can help. This is partly due to the authority it has from the Ohio Department of Aging and the federal Older Americans Act of 1965, which created long-term care ombudsman programs nationwide.
You can contact the local program and get information about its services and resources at it website, www.ltco.org.
Photo: Nate Cyrill is seated on the far side of the circle, next to the open kitchen door. To his left is Barbara Prociak. Photo by Hans Holznagel.