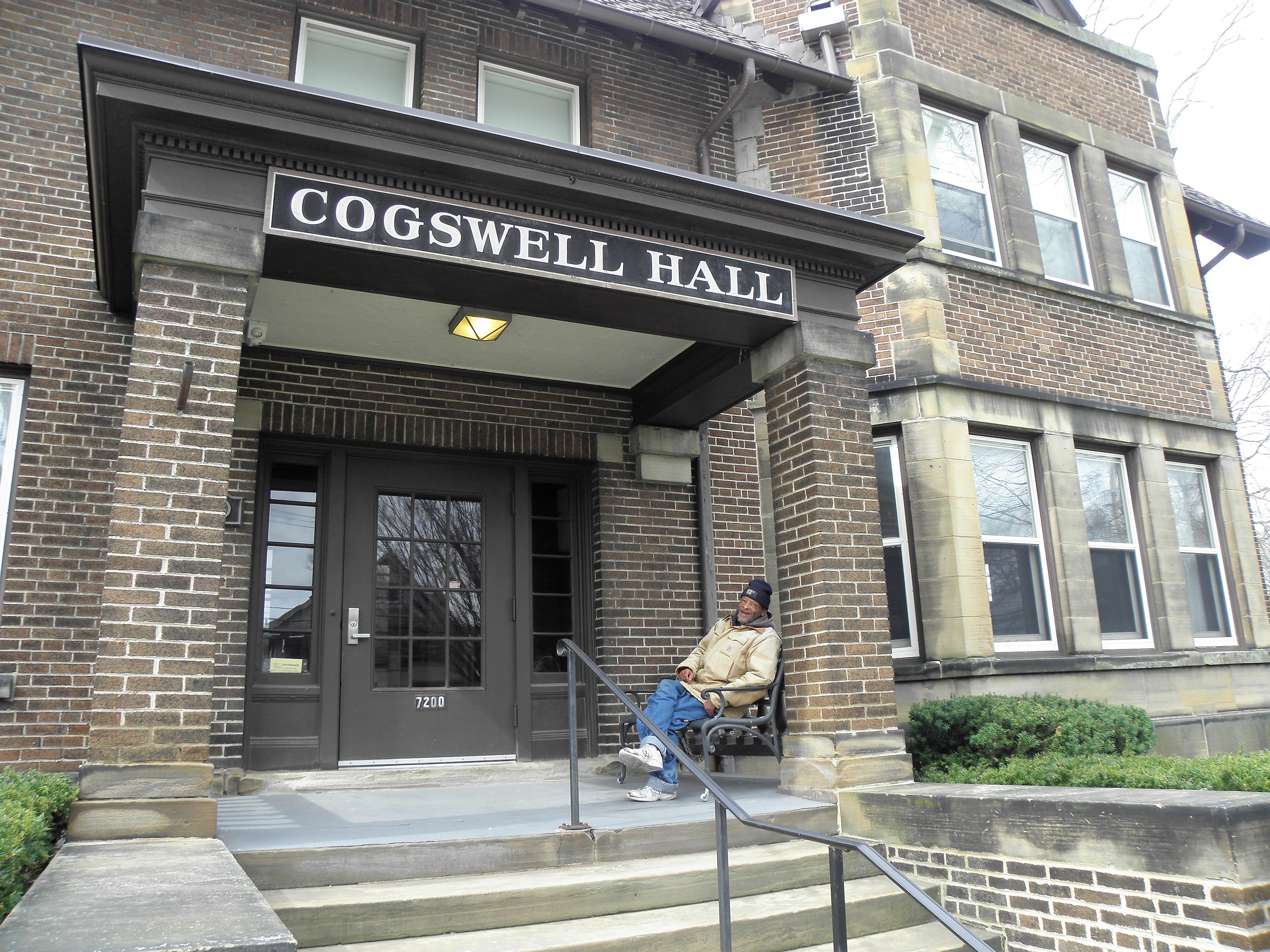 This year marks a decade since the renovation and expansion of Cogswell Hall's historic building and the arrival of our first male residents since 1878. New private bathrooms made that possible. In 2009, some people feared admitting men would cause trouble. It didn't, said Resident Program Manager Diane Kragt in an April interview.
"Some residents left because they wanted that pure experience of living only with women," Diane said. "Some who stayed were concerned that what made Cogswell Hall special would go away, that men would add an unwelcome element. They were afraid men would be knocking on doors, assaulting us or just being discourteous. None of that came to fruition."
Men were first admitted amid a rush of new residents in 2009. The new rooms opened in May, the renovated historic rooms in November, "and we had to be leased up by the end of the year," Diane said. The demand has not abated. Except for room transitions between residents, Cogswell Hall has been full ever since, with a waiting list sometimes as long as five years.
"The first group of men came and went pretty fast," Diane said. "In some cases, they had health issues that became apparent and it was clear they needed a higher level of care than we offered."
Some settled in more permanently. Diane remembered one man, now deceased, who had been living in a boarding house struck by arson. "Four people died in the fire," Diane said. "When he came here, he had a lot of trouble adjusting. He had nightmares, would drink, and this would cause problems. He was able to modify that to be able to live in community."
Around the time men were admitted, residents developed a code of conduct, assisted by students and a professor from Baldwin Wallace University, and this helped, Diane said. Also, disruptions were few. "I think people began to realize that men had the same kinds of issues as women but different ways of dealing with them," Diane said. Some men have a harder time opening up about their issues than women do, and some may turn to drugs or alcohol as a coping strategy.
One who made the transition fairly smoothly is Lloyd Watt, still living in the third-floor room he moved into in 2009. "I was homeless for 25 years, moving from place to place like a gypsy," Lloyd said in an April interview. "I was living in a shelter when I got the call that my apartment was ready. I was the happiest man in the world."
Lloyd grew up in Cleveland's Lee-Harvard neighborhood and went to several elementary schools and John F. Kennedy High School. During his homeless years, he would travel by Greyhound bus all over the United States. "The Salvation Army has an ARC (Adult Rehabilitation Center) in every city, and they have work," Lloyd said. "You unload trucks, sort things for their thrift stores, that kind of thing. They give you an allotment. You're paid at the end of the week. They feed you good, but you work hard. They called it work therapy. I just wanted a job to get paid." He would save up money for a while and move on to the next city. He also took day-labor jobs: operating a punch press, working in foundries, making boxes on a packaging line – "tedious, boring stuff."
Back in Cleveland, he was living in a shelter when his social worker at Frontline Services told him about Cogswell Hall. He waited nine months for a room to open up.
Lloyd found the transition easy in part "because I've lived with strangers all my life. I tried to mind my own business." He was aware that women had concerns about men moving in, but he noticed few conflicts. "Most of the arguments were about the TV," he said, and those mostly between two specific residents. "There's a TV on every floor, but for some reason they argued about what to watch on one of them." For the most part, though, he found, and still finds, Cogswell Hall to have a "family-like atmosphere." "I mostly stay to myself," Lloyd said. "The radio is my best friend." He likes the smooth jazz sounds at 107.3 FM.
Overall, the profile of residents has gradually changed in 10 years, Kragt said. This is partly because of the 19 rooms set aside for residents coming directly from homelessness ever since the expansion was completed. "Before, there tended to be a more even mix between people who were down and out and people who just needed the affordable housing," Diane said. "Now, for men and women, we tend to have more people with greater challenges. On our homeless side, we are now admitting our highest-priority people who have been on the street for the longest time and who have the greatest needs, and those tend to be men."
Above: Lloyd Watt relaxes on Cogswell Hall's front porch on April 12, 2019. Photo by Hans Holznagel.